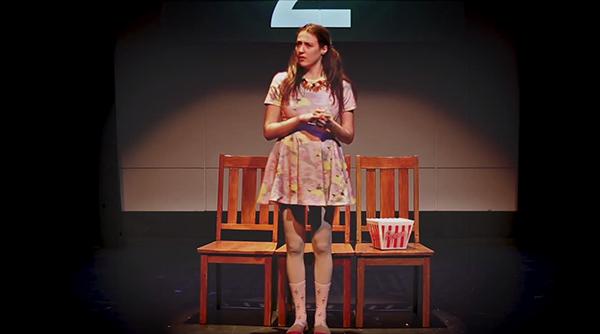 In an intimate theater in Hell's Kitchen, Gallatin senior Johanna Duk stands in the center of a near-empty stage wearing a bright dress and an ice cream cone necklace with matching socks. She stares wide-eyed at the audience and clutches a bucket of popcorn. The pigtails above her ears swing as she questions where she is and why she is there.
"Waiting for What?" is a dark comedy written by Duk and director Tisch senior Lily van Leeuwen. Duk, who is a writer, director and actress, stars in the one-woman show, playing a young 12-year-old girl in the waiting room between life and death. Throughout the fifteen minute performance, flashing numbers counted down to the main character's revelation of her death.
Although performed as part of the 2015 United Solo festival, the largest solo theater festival in the world, "Waiting for What?" has been seen by audiences before. It premiered at the Gallatin Arts Festival in Spring 2015 where Duk was happy to receive what she called "a great response from the audience." The play was originally van Leeuwen's idea, but transformed into something both writers felt strongly about through a collaborative effort.
"It is hard to share thoughts openly," Duk said. " In the show the little girl doesn't have to worry. I see it so much — people focus on what other people are thinking. It's unnecessary. I wanted to let my thoughts run. She doesn't always say what the audience wants to hear. She says more than she should."
Duk warned the audience will most likely be confused at various points but urged them to listen carefully. At some points, it is difficult to understand how such a young child could fabricate such deep thoughts, speak with such an extensive vocabulary and be so worldly about current events.
When the countdown projected behind her reached one, it seemed like the audience should be shocked — it was the moment the character finally wrapped her head around her death — but instead, most viewers were expecting more. The play ended literally at zero, with no afterword or final note. Certainly a bit confusing, the play felt somewhat unfinished as audience members silently waited for the next scene although the performance was over. Although unclear at points, it is Duk and van Leeuwen's intention and they are successful in making misunderstood, often avoided topics the central theme of their show.
"Waiting for What" was performed on Wednesday at Theater Row.
A version of this article appeared in the Nov. 16 print edition. Email Annaluz Cabrera at [email protected]