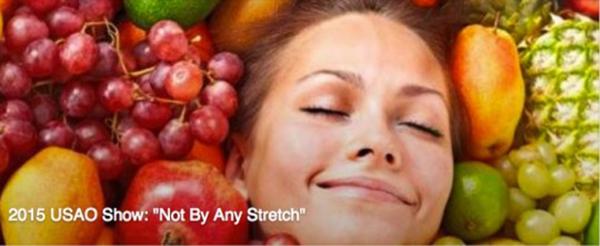 The Undergraduate Student Arts Organization of the Steinhardt studio art department opened its new show , "Not By Any Stretch," Wednesday at the Barney building. Curated by Autumn Hamra, Dae Young Kim and Paula Rondon, the exhibit features work from 23 artists of all grades in the BFA program.
The exhibit is very diverse in media, including forms such as painting, sculpture, collage and film. There is also a great variety of styles at play, including abstract expressionism and surrealism.
Hamra said, "The work creates a universe in which a subtle unusuality and the uncanny find a precarious balance."
Kim, who is curator and president of the USAO, said the range of the show is representative of art at Steinhardt in general.
"Our department is known for being interdisciplinary," Kim said. "A sculpture concentration doesn't only have to do with sculpture. In the contemporary art scene the specific medium is becoming less important and people are interested in seeing all the different things an artist can do."
Three paintings in the show deserve special praise for their creatively disturbing perspective on the human figure. One by junior Juliette Hayt, is a very striking portrait distorted and colored in a way that is reminiscent of Italian futurism. A much smaller, very eerie work by junior Callie Cramer also distorts the human face, but to a very different end: three different, abused-looking faces are stretched in different directions. The painting surface is made of wood, the naturalness of which is made scary when contrasted with the weirdness of the painting's figures.
A more lighthearted painting by junior Luz Carabano shows a figure inspired by the recent MoMA show of Picasso's  sculptures surrounded by a blue background. The work is one of the smallest in the exhibit, and there is something very charming about its genuine appreciation of the artist's work.
The video installations in the exhibit range from disturbing to amusing. One by senior Reba Kittredge Tyson shows a woman slapping herself repeatedly on a loop. Another, by senior Devin McNulty, recreates various music videos from the early 2000s over the song "Pour Some Sugar On Me" by Def Leppard.
"Devin is very interested in the pop culture that we grew up with," Kim said. "It has to do with nostalgia and the idea of guilty pleasures."
The sculptures in the show experiment with many different materials. Some, like one by George Spica, use wood. Others, including one by Kellie Krouse, utilize glass. One very memorable sculpture by Sarah Pardo shows someone cowering under a blanket made of plaster. The sculpture is placed in the back of the exhibit, so upon entering the gallery it seems as if the statue is a real person.
The Studio Art program at NYU encourages students to explore art forms across different mediums, and "Not By Any Stretch" shows the extraordinary depth of the program.
"Not By Any Stretch" is on view until Saturday Nov. 21 at the Barney Building.
A version of this article appeared in the Nov. 16 print edition. Email Tony Schwab at [email protected]