Soccer advances to ECAC semifinals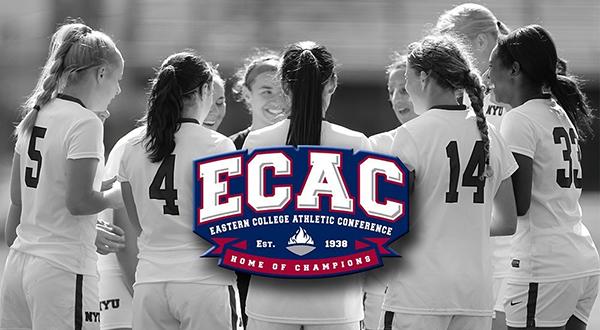 The women's soccer team kept their season alive with a 3-0 rout of Lehman College on Wednesday night in the opening round of the Eastern Collegiate Athletic Association Championships. Though it took the Violets until the second half to crack the scoreboard, they were never really in jeopardy of conceding the game to the Lehman squad, who were visibly outmatched by the top-seeded Violets.
NYU dominated possession from the beginning, leading to a lopsided shot differential of 19-2. Junior goalkeeper Cassie Steinberg, who has kept the Violets alive in low-scoring and defensive games all season, had a much easier night than what she's become accustomed to. Although it seemed like it'd only take one goal for either team to win the game for the entire first half, the Violets had plenty of opportunities. They just couldn't seem to get the final touch that would take them into open space in the box. Their forwards sailed a couple shots over the post late in the first half, and it became clear that a threatening NYU side would eventually go ahead and score.

In the second half, their chances finally came to fruition. Constant attacking on the wings finally led to an easy chance for freshman forward Nicole Malen. Junior midfielder Lexi Clarke beat Lehman's right back, then subsequently made her fall as she cut back into the middle, drawing the center back and leaving Malen wide open to put the Violets up 1-0 in the 64th minute.
Without looking back, they avoided sinking into their usual defensive shell that gained them multiple 1-0 victories this season. Instead, they pushed on. A long free kick from just inside the midfield line by junior midfielder Julie Glover in the 78th minute was misplayed by Lehman keeper Stephanie Gonzalez, giving NYU a 2-0 lead. Then, in the 81st minute, Clarke had her earlier assist returned when senior forward Melissa Menta set her up for her fourth goal of the season, effectively sinking a Lehman side that couldn't seem to string together passes across the midfield line. After the game, Menta was confident that their dominant performance would carry into their next match.
"I think today's game was a win necessary for our confidence," Menta said. "We needed to come out a prove what we are capable of, and I believe we did just that. I'm really proud of everyone's attitude. Going forward into the weekend, I have no doubt that we'll be successful."
The Violets will have a few days to prepare for their next opponent, Mount St. Mary College, who will travel to Gaelic Park on Saturday. Saturday's game will be the semifinal contest of the ECAC championships. If NYU comes out on top again, they will play the winner of Rutgers-Newark University and Bard College on Sunday for the title.
Email Bobby Wagner at [email protected].