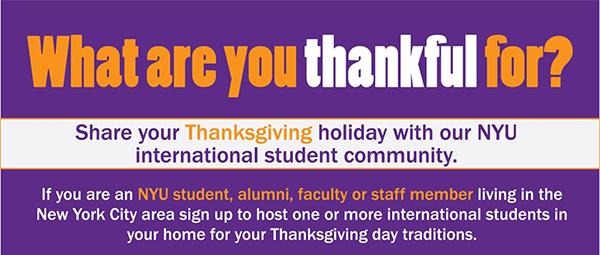 If you can't make it home for Thanksgiving, that doesn't mean you shouldn't enjoy a great home-cooked meal.  NYU's Division of Affairs, Center for Multicultural Education and Programs and the Office of Global Services have a Holiday Host Program where they match you up with a member of the NYU community — including faculty, staff and graduate students — who has volunteered host students for a Thanksgiving meal.
CMEP program administrator Amani Walker said what while the program has historically been marketed towards international students, this year the program will be open to any undergraduates who will be in the city over the holiday.
"This year it was also opened up to international graduate students," Walker said.
While the program is in its third year, Walker said that interest this year has exceeded expectations.
"In the years previous, it might have been around a hundred students — this year we have 270 students," Walker said.
When students and hosts apply, they are required to note which day or time they'd prefer to celebrate.
"We understand that not everyone might be available on the actual day," Walker said.
Administrators will then match each host, all of whom live in the Tri-State area, with one to five guests.
Applications for students are open until Nov. 13, but Walker expects that the deadline will be extended for members of the NYU community who want to host students this holiday.
Email Monica Hanna at [email protected]