Wrestlers solid in season opener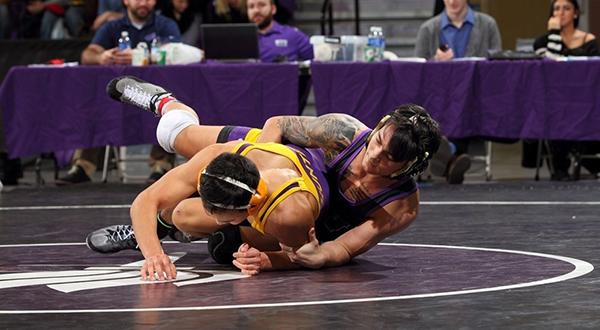 The NYU wrestling team may have started a new season on Saturday, but it was a familiar face that led the Violets to a fourth place finish. Junior standout Nathan Pike picked up where he left off last season, going 5-0 in the 133-pound weight class to lead the Grapplers to a fourth place finish out of the 12 teams who competed. His performance was good enough to earn him the Most Outstanding Player of the Tournament award.
Pike — who won four matches at nationals last year for the Violets as they were en route to a 12th place finish — is looking to take the next step and compete for not just a place at nationals, but a title. Competing in the 174-pound weight class, fellow junior John Messinger also went deep into the competition, losing in the quarterfinals after going 5-0 to that point. A pair of NYU seniors, Kyzen Smith and Gaaret Marinelli, made it to the fifth-place match in the 184-pound weight class, but Marinelli was forced to concede to Smith due to a medical withdrawal. In the 125-pound class, junior Wayne Yuan finished 3-2, kicking off what he said will be an incredible year for the team.
"We came into the tournament with many kids injured and not being able to compete," Yuan said. "I think once we are all fully conditioned and healthy, we will be top 10 in the nation."
The younger wrestlers on the team also fared well. Sophomore Raymond Jazikoff proved that he won't start in a sophomore slump after a stellar freshman campaign in which he led the team with 34 wins. Jazikoff posted a record of 3-1 over the weekend in the 157-pound class. Freshman Ian Burke found his footing in his first career collegiate match, placing sixth in the 149-pound weight class by compiling a
5-3 record.
Though they were considerably off pace from Ithaca College, the winners of the tournament, the Grapplers turned in a solid performance in their first match after a long offseason. They will be looking to round into form as the season goes on, and save some energy for nationals, where they expect to see at least a few different Grapplers compete for top spots. The team will be back in action next Saturday, Nov. 14, for the Metro vs. PA Duals at Kings College.
A version of this article appeared in the Nov. 9 print edition. Email Bobby Wagner at [email protected].