Violet swimming still perfect after Fall Invitational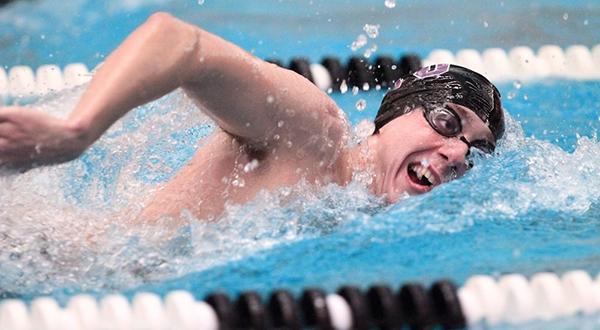 NYU's undefeated men's and women's swimming teams were in action again over the weekend's NYU Fall Invitational. The men's team needed an exciting comeback to win, while the women dominated on both days.
The women's squad brought its perfect 3-0 season record into Palladium on Friday and raced to a quick 133.5 point lead with strong performances by junior 50-yard freestyle winner Elise Gibbs and sophomore 200-yard individual medley winner Rachel Munger. Freshmen Haley Wen and Grace Wakabayashi also impressed, finishing first and second respectively in the 500-yard freestyle.
The Violets continued their dominance on Saturday. Sophomore Isabelle Kitze placed first in the 100-yard freestyle and 100-yard butterfly events, and also participated in four first place relay teams. Gibbs was victorious in the 200-yard breaststroke, and Wen and Wakabayashi again finished first and second respectively in the 1,650-yard freestyle event.
"I think a huge part of our success is how supportive everyone is of each other," Wen said. "It's so much more fun and exciting to race when you know you have a whole team of people who want you to do well and are cheering you on."
The men's team, also entered the weekend's competition undefeated, though it found itself in an early five-point deficit, but rallied nicely on Saturday to finish with a score of 762 — 80 points clear of Stevens Institute of Technology and SUNY New Paltz. The Violets' key performers included sophomore Chad Moody, who placed first in the 100-yard freestyle, and sophomore Austin Palmer, who carried the Violets in the 1,650-yard freestyle. Moody also led the team's 400-yard freestyle relay team, but she credits her success to the team's three coaches Trevor Miele, Kyle McNeilis and Erica Belcher.
"I am really happy about my performance this weekend but especially with the performance of my team," Moody said. "I credit it all to Miele's great coaching and leadership and our two new coaches McNeilis and Belcher."
Sophomore Joseph Baron won the 50-yard freestyle on Saturday, while finishing second in the 200-yard freestyle relay event. Baron said the team's strong start is indicative of the remainder of the season.
"I think we're going to have another record-setting season," Baron said. "With the way everyone is performing, there's no doubt we can surpass last year's season, even though we lost a few key seniors."
Both teams will carry their 4-0 records when they compete against The College of New Jersey on Nov. 14, at Palladium. The teams will then compete against Vassar College, before competing in the MIT Invitational in December. The teams will then break for the holidays and will return on Jan. 16 for the Violets' family-senior day competition against Springfield College.
A version of this article appeared in the Nov. 9 print edition. Email Michael Thompson at [email protected].