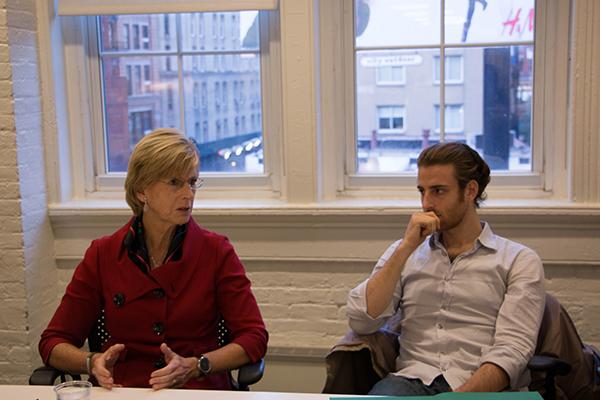 NYU graduate students met with former New Jersey Gov. Christine Whitman on Monday to discuss the costs and benefits of nuclear energy. The event was organized by NYU Wagner's Alliance for Climate Change and the Environment.
Whitman, who served as governor from 1994 to 2001 and as administrator of the Environmental Protection Agency from 2001 to 2003, is now one of the chairs of CASEnergy Coalition, an organization that promotes increased nuclear energy use. She said the energy crisis needs to be addressed soon, as electricity demand is predicted to increase by 22 percent by 2040.
"It's not an either/or with the renewables," Whitman said. "It's going to take us a while to get to the point where renewable energy is the best power. We're not there yet."
She added that she believes nuclear energy is the best alternative to renewable energy sources, because it is cleaner than coal and natural gas and creates many jobs.
"It's not just nuclear engineers or scientists," Whitman said. "You need security, you need maintenance, you need electricians, you need the whole pipeline and those jobs tend to pay 30 percent more than a similar job in the area."
Students from ACE, the NYU Stern Energy Group and NYU School of Law's Environmental Law Society attended the meeting. They asked Whitman about some of the concerns surrounding nuclear energy, such as storing spent rods and health risks from radiation. She said although the technology is not completely risk free, it is very safe, and spent rods are stored in secure locations.
The most important part of the clean energy movement, Whitman said, is public participation through voting and informed conversations.
"When people get on me and say, 'Oh gee, what will we do? Oh, woe is me, we can't do anything,' I say, 'Well, look in the mirror. That's where the problem starts is right there,'" Whitman said. "If you don't take the time to vote or to register to vote, don't talk to me about how upset you are."
Iliana Paul, a graduate student in Wagner and the chair of ACE, said the event went well and Whitman was able to answer her questions in-depth.
"Because Gov. Whitman is a Republican, she was an EPA administrator, she was a governor, she has a range of perspectives that might be different than our own, so we were definitely looking forward to that," Paul said.
Paul said an op-ed will be written soon for the Wagner Review about nuclear energy and its role in the future.
"Hopefully between the press and the conversations board members have with classmates, a lot of people will become informed," Paul said.
Dana Waller, a Wagner graduate student and member of ACE, said the most important part of the issue of clean energy is raising awareness.
"I think just attending more events, speaking to people, making the community more aware about possibilities, not just for nuclear energy but for the environment in general is something that we at ACE try to do," Waller said. "People have a lot of preconceived notions, and it's important to educate everyone."
Email Maddie Norwood at [email protected]