FemmeCare drive highlights health issue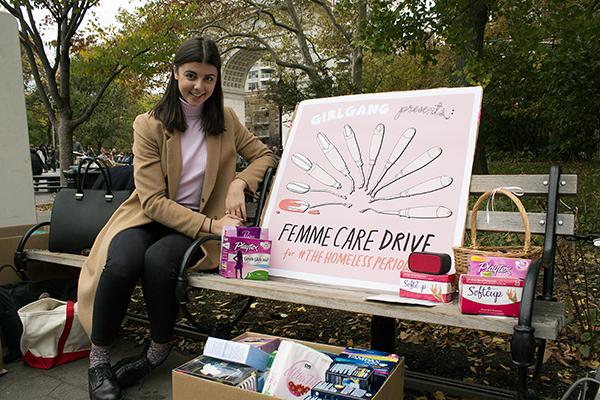 Tisch junior Gloria Zingales spent this Saturday afternoon in Washington Square Park collecting donations for homeless women and girls — but instead of asking for food or spare change, her drive called for boxes of pads and tampons, basic feminine hygiene products that some cannot afford.
Zingales began to think about the issue when she saw videos from #TheHomelessPeriod, a movement started by a group of women in London. After reaching out to NYU to organize an event and receiving no response, she turned to Facebook and created the FemmeCare Drive, inviting all of her friends to donate feminine hygiene products. She also asked companies that make reusable products like menstrual cups or absorbent underwear to donate and get involved. Lunacups, a company that creates menstrual cups for women, sponsored the drive and sent donations.
"One of the reasons I find it to be so important is that not only are we providing tampons to homeless women, but we're also kind of working to break this taboo around periods, cycles and menstruation," Zingales said. "It's something that's really healthy and normal, and it's frustrating to feel like it's wrong and we shouldn't talk about it."
With a pink poster that made a bloody tampon beautiful, and well-known Drake songs blasting on speakers, the FemmeCare Drive on Saturday became the open, conversational space that Zingales envisioned. Those who dropped off donations stayed to talk for a few minutes, asking about how the event started or commenting on the growing piles of boxes. Supermodel Karlie Kloss, who is also currently a freshman in Gallatin, also stopped by to take a picture.
Emma Chikow, a student at the New School, spoke about #TheHomelessPeriod not as a women's issue, but as a basic healthcare issue.
"No matter what situation you're in, whether you're homeless, or you're in prison, or you're living on Wall Street, everybody that has a period has a right to being clean and safe," Chikow said.
Zingales also stressed the importance of encouraging male involvement, even posting humorous instructions titled "How To Donate To FemmeCare If You Are A Man And Afraid Of Tampons" to her Facebook event page. Etienne Cipriani, an employee at Columbia University who volunteered at the drive, noticed that more men were stepping up to help the cause.
"I've seen many people that have came here to give donations, and they've asked if there's an active male party to this," Cipriani said. "And it's cool because there is. I've seen men come here and donate. It feels like we're getting a little more united than before."
To Zingales, the FemmeCare Drive was successful, leaving her with three cardboard boxes full of pads and tampons to bring to Bowery Mission and Grand Central Neighborhood, both of which accept donations at all times. She hopes to continue the movement by joining other groups with similar ideas and partnering with more sponsors. In order to keep people thinking about the health of homeless women and girls, Zingales plans to host events that will continue donations. More importantly, these events will continue the much-needed conversation about feminine healthcare.
A version of this article appeared in the Nov. 9 print edition. Email Carmen Russo at [email protected].