Professors share college experiences with first-generation students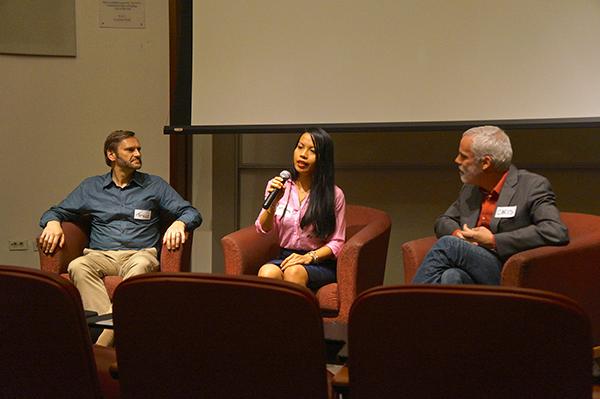 NYU's "Proud to Be First" Club, a group that focuses on engaging and supporting first-generation college students, hosted a panel discussion with three faculty members on their own experiences of being first-generation college students.
Chris Barker, a professor of linguistics, Christine Thu Nhi Dang, an assistant professor of music and Trace Jordan, a professor of chemistry, shared their hardships, memorable experiences and secrets to success.
The first to present in the panel was Barker, who is a second-generation college student. Nevertheless, he had lots of input on how to succeed in an academically rigorous environment. Barker grew up in a household where schooling and higher education was seen as extremely important and necessary. His parents were in school while raising Barker. As a result, he grew up surrounded by an academic setting and was motivated to go to college and explore his own passions. At Yale University, he discovered there was no easy trick to doing well in school.
"These kids didn't have any systematic advantage over me," Barker said. "All I had to do to outsmart them was study harder. Just as I realized, I want you all to know that you belong here, and we're happy that you're here."
Dang, an assistant professor of music in the Faculty of Arts and Science, was the next to speak. Born in Saigon, Vietnam, she immigrated to the United States when she was about 10 years old and was able to shine as a student picked to be a part of the Gifted and Talented Education program. She was given a mentor who encouraged her to continue with higher education.
For Dang, the biggest challenge was balancing her desire to pursue her true passion, music, or do something more pragmatic that would financially support her and her family. After choosing the latter, she forced herself to go to medical school. Ultimately, however, she decided to pursue a PhD in music after medical school made her unhappy.
"My parents didn't know quite how to guide me," Dang said. "But I learned that you I had to follow my passion, but also keep my family pressures in mind."
Jordan, a clinical professor and Director of the Foundations of Scientific Inquiry program in the College Core Curriculum, was the last to speak. Growing up, going to college was not even an option for him.
But then he took up reading, and soon developed a passion for it. As he discovered new books, he discovered a curiosity inside him and a need for knowledge. He earned a Bachelors in applied physics and a Masters in laser physics from the University of Essex, then attended the University of Toronto to study history and the philosophy of science. Further still, he ultimately decided he wanted to get a doctorate, and was accepted into Princeton University to do his research.
Jordan said he did not regret his long schooling because he was given the opportunity to learn. He ended the panel by giving some advice on how to choose your course of study, which can often be difficult for college students.
"Think about what your passion is," Jordan said. "Ask yourself this: when you wake up in the morning, what do you want to do every day? Your passion lies in the answer to that question."
Email Ankita Bhanot at [email protected].