Women's volleyball on track, heading to UAAs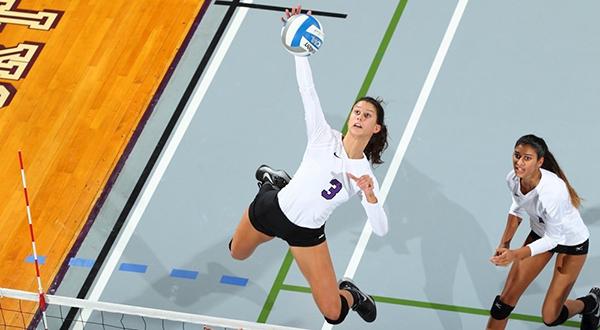 After struggling against Rochester Institute of Technology and Nazareth College on Friday, the women's volleyball team beat Montclair State University and Fredonia State University on Saturday. Their 2-2 weekend kept them at one game under .500 going into University Athletic Association championships next weekend.
The weekend started bleak when RIT handled the Violets fairly easily in straight sets, 27-25, 25-15, 25-16. The Violets kept it close in the first set but could not keep up for the next two sets. They didn't have a single player in double digits for kills, as senior middle blocker Nicole Frias led the way with nine. Frias also tallied the most blocks with six.
Their second match on Friday was a heartbreaking loss at the hands of Nazareth. After storming out of the gates to dominate the first two sets, 25-21 and 25-12, the Violets dropped three straight sets. The third set, with a score of 26-24, was particularly frustrating for the team. After coming so close, they could not regroup and respond in the remaining sets, losing 25-18 and 15-12. Sophomore outside hitter Alexis Jackson led the way with 12 kills, closely followed by freshman outside hitter Shelby King with 11. Frias added nine of her own.
"We learned from our errors and came back the second day fired up to beat a team, Montclair, we had previously defeated at home," King said.
The Violets were able to refocus on Halloween, and winning two important matches boosted their morale. In their first game of the day, NYU battled through a back and forth early morning matchup against Montclair State University, eventually earning the win with set scores of 25-22, 21-25, 25-18, 11-25 and 15-13. King broke out with 15 kills, and freshman setter Daryl Mitchell racked up 42 assists in the win. It was also a balanced defensive showing from the Violets, boasting 11 digs from Mitchell, 20 digs from sophomore libero Brooke Tannahill and 17 digs from freshman defensive specialist Stephanie Mao.
The momentum from the fifth set carried into their next match, where they swept Fredonia State in three relatively close sets, 25-20, 25-18 and 25-19. King stood out again, racking up 13 kills in the win. Frias notched 7 blocks, while sophomore outside hitter Rayne Ellis added six of her own. Ellis was disappointed in the Violets' frustrating losses but was pleased with Saturday's games, which exceeded her expectations.
"We should have beaten Nazareth and we didn't, but according to regional rankings we should have lost to Fredonia, and we beat them in three," Ellis said. "Our team has moments of brilliance; and it's in moments like those, in games like Fredonia, that we play volleyball for."
The Violets will take their 15-16 record into their final weekend of play, where they will travel to the University of Rochester next weekend, Nov. 6 and 7, to compete in the UAA championships.
A version of this article appeared in the Nov. 2 print edition. Email Bobby Wagner at [email protected].