Why believing in the Mets was worth it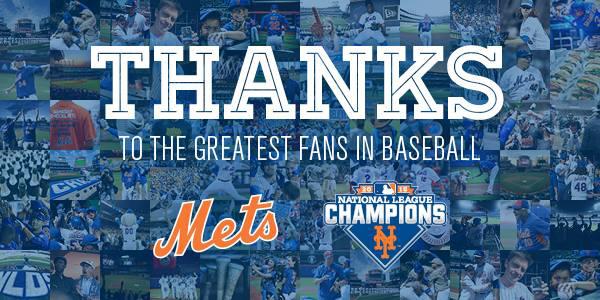 In 1986, when the Mets won their last World Series, I wasn't even a thought in either of my parents' minds. It would be two years before they even got married, and 10 before I came into the world without the slightest clue what a baseball was. It wasn't long before I was handed a Mike Piazza jersey and a blue and orange toddler mitt. I was born into Mets fandom, but over the grueling years of collapse and disappointment I had plenty of opportunities to jump ship. I chose to stay.
It's a curious thing that grown men — who I have never met, coming from places I have never been, living lives I will never know — can make me upset like the Mets did Sunday night. It'd be ridiculous to try and justify getting so upset over what, objectively, is a bit of a circus. Baseball players wear tight uniforms that I have replicas of hanging in my closet. They swing wooden sticks at leather balls. They run like hell from base to base and throw themselves on the ground to try and remain safe.
The struggles of my beloved Mets are long and well-chronicled. After the Miracle of '86, which will forever remain in lore, the team fell off a cliff. Their problems were unforeseen and wildly upsetting. Drug problems derailed the careers of some of their most promising young players. A team that was set up to be a dynasty didn't win another National League pennant until 2000, when I was just four years old and much too young to remember anything besides the stack of Topps cards my mom bought me the next year. After the 2000 season, the franchise tanked. Ties between the Wilpons — the family that owns the Mets — and Bernie Madoff led to the financial gutting of the team in the mid 2000s. A series of decisions to overpay subpar players and a string of late season collapses kept the team out of the playoffs from 2007 until this season.
But everyone knows all this. The pity party is over for the Mets. This year was the most exciting year of baseball fandom in my life. The amount of disappointment that I felt when Wilmer Flores struck out to end the series Sunday night, or in past seasons when the Mets were the butt of everyone's baseball jokes, can't take away from the fact that for a few months this summer and fall I was all-in for a team that brought me genuine joy. "Ya Gotta Believe" has always been the mantra of the Mets. You can't feel regret for believing in a team, even when they come up just short.
Somewhere, in Kansas City, there's a kid my age celebrating in their newly minted World Series Champion t-shirt, vindicated from last year's defeat, overcome with joy over the franchise's first World Series win since 1985. We don't get to choose when our teams do well and when they don't, because that would take all the loyalty out of being a fan. A bounce of a ball, a glove not all the way on the ground, the wind blowing a home run just over the fence — these are the things our belief hinges on. Kansas City believed, just as New York did. Royals fans deserved a win just as much as I did.
We enter this fandom because it's nice to feel passionately about something, especially when it's Noah Syndergaard's flowing blonde locks. It's gratifying to have strangers on the street rally along with you for the entire month of October over Daniel Murphy's honey-sweet swing. I'd watch the Mets lose 10 straight World Series if it meant that I got to watch Matt Harvey scream his way off the mound after striking out the side in November.
Before this season, I was very close to giving up my love for baseball. The game was riddled with performance enhancing drugs. The Mets were the laughingstock of the league. I couldn't bear sitting down to watch nine innings of a baseball team that looked more like a dumpster fire than a group of professional athletes. It's a damn good thing that, living in the city, I had just enough exposure to the Mets not to snip the thread keeping me loyal to this team, because I would have never been able to forgive myself. Instead of being discouraged by this loss, I'm excited for what could happen next year. The Mets might be able to learn something from the Royals' resiliency. Even if they don't, their fans will never forget the 2015 squad — the one that finally reminded them why it's worthwhile to agonize through years of close calls and the long, anxiety-riddled death grinds of a 162 game season. Things are looking up in Queens.
Say what you must about professional athletes being grossly overpaid. Call sports trivial, or just a game. Call them overdramatized and hyper-masculine. All these things are true. But, for the fans who really love the game, there are few things in life more blissful than rooting for your team to succeed when no one expects it to. For that reason, there will always be room for those who want to believe
Email Bobby Wagner at [email protected].