Relay for Life to paint Violets purple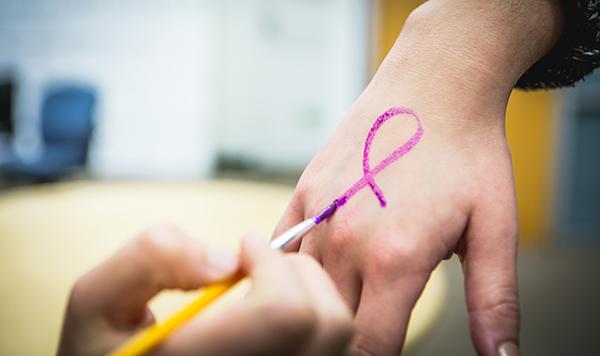 Washington Square will truly become violet as Colleges Against Cancer at NYU launches Paint the Campus Purple week today to kick off the 2016 Relay for Life season. The campaign is a nationwide event designed to commemorate those who have lost their lives in the battle against cancer and continue to fight against the disease.
CAC is a branch of the American Cancer Society dedicated to promoting cancer prevention awareness, education and advocacy while bringing together students, faculty and staff from universities across the nation.
Over four million people participate in the annual American Cancer Society Relay for Life, and CAC at NYU hopes to spread awareness throughout the Washington Square area. 
CAS sophomore and Relay co-chair Hayley Hansen said Paint NYU Purple will be a week-long celebration full of fun and engaging activities.
"The event brings together thousands of college students each year to celebrate the lives of those who have battled cancer, remember loved ones lost and fight back against a disease that takes too much," Hansen said.
CAS junior Alexandria Gutierrez emphasized the importance of Paint the Campus Purple Week, which is the unofficial kickoff for NYU Relay for Life 2016.
"Relay helps raise money for the American Cancer Society and it is so important to me that NYU does all we can to help the cause," Gutierrez said. "Cancer affects everyone in some way, and our generation should be the ones to help finish the fight against cancer."
CAC will be holding a different event each day to promote Relay around campus, including a Links of Hope ceremony in Washington Square Park on Tuesday. Blank strips of paper will be linked together with a purple strip to represent someone who has been affected by cancer and the support of Relay.
Steinhardt junior Jackie Mironov said Paint the Campus Purple is the students' chance to show NYU that Relay is a huge event at the university, and that every type of participation makes an important impact on the mission.
"Cancer touches each and every one of us, and the American Cancer Society needs support, both financially and through political advocacy, in order to continue offering their life-changing treatment programs, prevention materials and research facilities," Mironov said.
Tandon sophomore and CAC member Sumaiya Chowdhury said she chose to participate in Paint the Campus Purple because it is a comprehensive week geared to spread awareness and support throughout the NYU community.
"The American Cancer Society's Relay for Life is an impressive and beautiful event," Chowdhury said. "By promoting Paint the Campus Purple week, I have the opportunity to not only bring the efforts of Relay for Life to a large and compassionate community, but to let others know that they are not alone in their fight
against cancer."
A version of this article appeared in the Nov. 2 print edition. Email Lexi at [email protected]