Offensive images at Fall Ball prompt law student backlash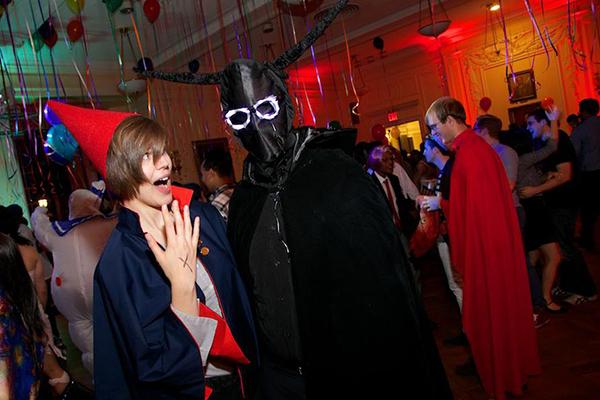 The NYU School of Law has come under fire after displaying questionably appropriate imagery at its annual Fall Ball. The Halloween-themed party thrown by the Office of Student Affairs allows students to select a theme and dress up, while decorations are organized by the school.
The Mental Health Law and Justice Association, a student organization at the law school, found this year's decorations to be disrespectful and triggering due to images portraying a man dying by suicide. According to their website, the organization is committed to creating a safe community for students to discuss and learn about mental illnesses. Additionally, the association advocates for justice for those marginalized due to such illnesses.
The organization took action by writing a letter addressing the deans of the law school. This letter was then sent via the school's listserv to the entire student body.
In the open letter, MHLJA expressed their concern and outrage regarding a video projection of a silhouetted man dying by suicide and projections displaying interpersonal violence and violence against women.
"For members of our community who have lost someone to suicide or who have had personal experiences, this topic is not a Halloween gimmick," the letter states. "We believe that this unfortunate situation is the result of the stigma surrounding mental health and widespread misunderstanding of suicide."
Viviana Bonilla López, a second-year law student and co-chair of the Mental Health Law and Justice Association, said the organization will be talking to the law school concerning the decorations.
"We're speaking to the administration and are in the process of scheduling a meeting," Bonilla López said.
Michael Orey, the NYU School of Law spokesperson, acknowledged the inappropriate nature of certain decorations and confirmed that the law school's administration would be meet with law students.
"We agree that some of the imagery at this year's event was inappropriate and it won't be used again," Orey said. "Our dean of students is always accessible for members of our student community to raise concerns and will be meeting with those who did so in this matter."
Not all students, however, found the decorations as triggering as MHLJA did. Seema Chaudhari, a CAS junior and co-president of the Active Minds NYU Chapter, did not actually see the images in question but said given the context of Halloween, the decorations probably did not cross the line.
"I think it's far more detrimental when, say for example, political candidates spread misinformation or negative stigma around mental health-related issues," Chaudhari said. "I think most people, including myself, take Halloween fun at face value."
Chaudhari added that the problem brought up by MHLJA allows for warranted discussion of mental health-related issues and how society handles them.
"I'm glad that this issue is up for discussion, as this can serve as an opportunity for opening a dialogue about the dark history of mental health care," Chaudhari said.
Email Alice Zhang at [email protected]
CORRECTION: A previous version of this article referred to Ms. Bonilla López using an incorrect last name. Additionally, the article has been updated to clarify that Ms. Chaudhari did not actually see the images.