Marathon runners take NYC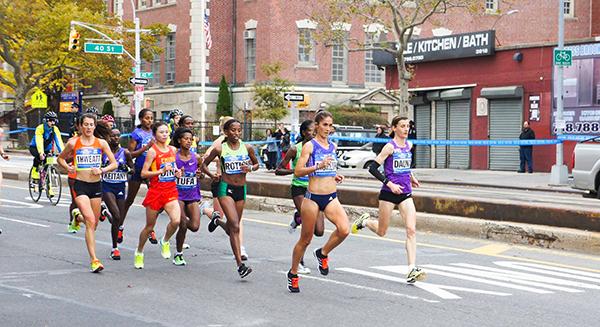 The streets of New York were littered with hard work and sweat on Sunday as thousands came out to partake in the annual New York City Marathon. The runners started in Staten Island on the Verazanno Bridge and ran through all five boroughs before finishing in Central Park.
According to organizers, 50,229 people started the race this year and some one million people watched.
This year, the winners were both from Kenya. Stanley Biwott won the men's race in 2:10:37 after placing fifth last year, and Mary Keitany defended her first place finish from last year in 2:24:25.
In the men's race, second place went to another Kenyan, Geoffrey Kamworor, in 2:10:48, and last year's Boston Marathon winner, Ethiopian Lelisia Desisa, finished third in 2:12:10. The winner last year, Wilson Kipsang, also of Kenya, finished fourth in 2:12:45. American Meb Keflezghi finished seventh in 2:13:52, setting a new master's record by 20 seconds.
In a press conference after his finish, he talked about both setting the record and his hopes to make the Olympic team.
"I think it was nice to get the record," Keflezghi said. "But if I'm going to make the Olympic team I'd better run a lot faster."
In the women's race, the highest ranking U.S. finisher was Laura Thweatt, making her marathon debut. She finished seventh in 2:28:23.
Not all 50,000 runners are in the elite field, and some who ran are students at NYU, including Gallatin junior Lauren Dorsky. Dorsky, who runs several marathons a year, said the New York Marathon is one of her favorites.
"I love running big city marathons," Dorsky said. "In my opinion NYC is the best marathon because of the course and the crowd support."
College of Nursing freshman Larissa Burka said watching the marathon was motivating for her own fitness goals.
"I'd gone to Central Park to just read actually, and completely forgot the marathon was today," Burka said. "It was so incredibly inspiring to see all these people running for different reasons."
A version of this article appeared in the Nov 2 print edition. Contact Justine Morris at [email protected]