Fencing opens season with solid start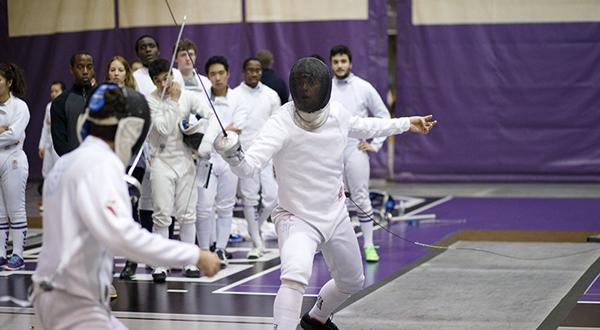 The men's and women's fencing teams both opened their seasons at the Temple University Open this weekend in Philadelphia. At the tournament each fencer competed as an individual, with no team scoring.
The most successful fencer on the women's foil team was freshman Anastasiya Muravyeva. In the first round, Muravyeva won all four of her matches in the first round and two in the second. This got her through to the final 16, where she ended up placing sixth out of 82 fencers.
In sabre, two freshman performed especially well. Out of 75 fencers, Maria Free finished 12th and Jacqueline Tubbs finished 14th. Similarly in epee, two players led the way. Junior Cyn Chau and sophomore Stephanie Cunningham placed 12th and 15th, respectively. Freshman Hannah Bennett was eliminated in the first round of play, but said she was excited just to get in the swing of travelling with a collegiate fencing team.
"I had a lot of fun bonding with the team on our first trip together," Bennett said "The men's teams in general did really well today — four in the top eight for sabre, and one of our guys won the men's epee event."
The men's team produced many impressive performances, winning a medal in each of the three categories. Sophomore Hans Engel took gold in epee, while freshman Kyle Welch took silver in foil. In sabre, junior Quinten Burgunder took bronze and freshman Grant Williams took silver.
All three of the NYU men to reach a final competed against fencers from Pennsylvania State University. In two close matches, Engel defeated Joshua Cole 15-11, but Williams eventually fell to Gavin Turner 15-14. Welch didn't fare as well, losing to Julian Fevry 15-8.
There were several other impressive performances. Senior Jerry Xu and freshman Mickey Bak tied for seventh in sabre. Freshman Keith Kan finished sixth in foil and junior John Cramerus finished ninth in epee. Though they weren't dominant across the board, the team will have plenty of time to build on their solid start.
The NYU fencing team is in division I, so they regularly compete against the best teams in the country. Some of the teams competing at the Temple Open were Cornell University, Rutgers University, the University of North Carolina and the University of Florida.
As the season begins, the women will be looking to improve on a rough 3-20 record last year. The men hope to push their 11-10 to an even higher mark this year.
Both the men's and the women's teams will be playing their next tournament this coming Thursday when they travel to Hoboken, New Jersey, to compete against the New Jersey Institute of Technology and the Stevens Institute of Technology.
A version of this article appeared in the Nov. 2 print edition. Email Tony Schwab at [email protected]