Alum Beowulf Sheehan discusses career as photographer for the famous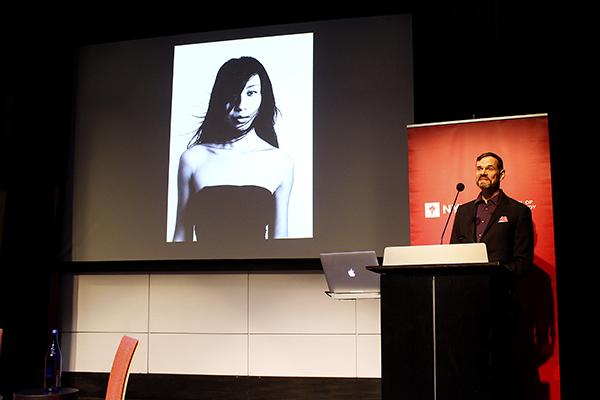 Renowned photographer and NYU alumnus Beowulf Sheehan gave a talk at the Gallatin School of Individualized Study on Thursday, presented by the school's Alumni Arts and Society association. Sheehan, who completed his Masters in 1996, spoke about his journey to becoming a professional photographer and what he learned about photography and life along the way.
Sheehan is primarily known for his work as a portraitist, capturing varied and compelling subjects including rapper Kanye West and author Cormac McCarthy. Although he covers a wide range of cultural focuses, Sheehan has cultivated a deep connection with the literary community.  His portraits of writers, both conservative headshots and more inspired shots, are used widely as the author portraits that grace the backs of best-sellers, including recent Pulitzer Prize winner "The Goldfinch" by Donna Tartt.
But last Thursday, Sheehan didn't start his talk by detailing his successes — he took the audience back to his beginnings, in particular his time at NYU and his transition to professional photography. When he came to NYU, he had a business degree and a job in fashion finance, a testament to anyone worried that the major they choose now will dictate their future. Sheehan emphasized that his time in Gallatin was spent studying photography and holding down a day job. He photographed anyone he could and tried his best to come up with ideas that pushed the creativity of his work to pull them off.
For the majority of the evening, Sheehan took the audience through a chronological show of his photography. He spoke about how his career developed as and he credits his real start to the Deutsches Haus at NYU, the university's German cultural and literary hub. The Haus hosted a writer-in-residence every year and commissioned Sheehan to photograph them, which then turned into his first book commission. After building up a reputation with writers, Sheehan started to shoot literary festivals and established a full-time career.
He expressed two pieces of personal philosophy about this time to the audience: photography is often about who and what you know, and the love he put into photography came back to him, and it will for others. Love was a major theme in Sheehan's talk. He discussed his love of photography, his family and the love flowing through his subjects. He stressed that he found his way in life through building up relationships, rather than through concrete objects or things. Sheehan expressed that similar to love, connection is important to his work. He takes the time to explore every subject's body of work and crafts an idea stemming from what he sees.
While Beowulf's name is not instantly recognizable, his work appears in newspapers, books and billboards worldwide. He only hopes that his portraits portray the love put into them.
A version of this article appeared in the Nov. 2 print edition. Email Cece Charendoff at [email protected]