Photography exhibit captures Iran in the 19th century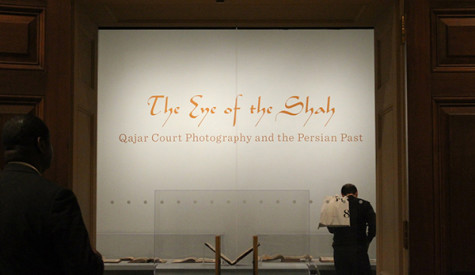 Capturing the lifestyle of past Iranian shahs through an artistic lens, "The Eye of the Shah," opened Oct. 22 at NYU's Institute for the Study of the Ancient World. The exhibit brings the development of early photography in Iran to the upper east side.
On display are cameras that were gifted to Iranian Shah Naser Al-Din Shah Qajar in the 19th century. He and his family were very taken with photography, sponsoring it through their reign. Many of the over 200 photographs in the exhibit — some of which are being shown publicly for the first time — are of the royal family. Other photographs show the daily life of ordinary citizens and several historic monuments including Persepolis. There are also old travel books illustrating western depictions of Iran and in a separate section of the exhibit, photographs by two modern Iranian photographers, Bahman Jalali and Shadi Ghadirian.
The city was the ceremonial capital of the Achaemenid empire of the sixth to fourth century B.C. At the heart of the city was the palace of the king, which the photographs capture in detail. Some shots capture the remains of the palace from a distance, revealing its beauty as an overall structure, while closeups reveal more of the intricacies of the building.
The standout photographer in the exhibit is Antoin Sevruguin. While many photographs in the exhibit aim primarily at depicting the subject as objectively as possible, Sevruguin's reveal great creativity with both light and positioning the human figure. His portraits often place the human figure sprawling across the ground while looking directly at the camera, which creates a very intimate way to perceive bodies. Sevruguin was born in Tehran, Iran, in the Russian embassy. The son of a diplomat, he was originally trained in painting before taking up photography to support his family. At the time, painting techniques experimented with where light was directed in the frame, which shaped Sevruguin's photography.
The exhibit deals interestingly with Iran's relationship with the West. Several plaques note that some pictures on display that were intended for European audiences consciously seek to portray the country as mystical, a view that would later be called Orientalism. The sense that Iran was perceived this way is heightened by several travel books from European sources. These books, published from the 17th to 19th century, often put a great emphasis on the exotic appeal of Iran.
There will be several free events surrounding the exhibit in the coming months. On Oct. 29, a film will air about the development of photography in Iran. It focuses on the role of women in Iranian photography and also addresses tensions between Iran and Europe. In addition, there will be lectures relating to the exhibit on Nov. 24, Dec. 3 and Dec. 17. All the events begin at 6 p.m.
Email Anthony Schwab at [email protected].