Pharrell Williams is elusive campus icon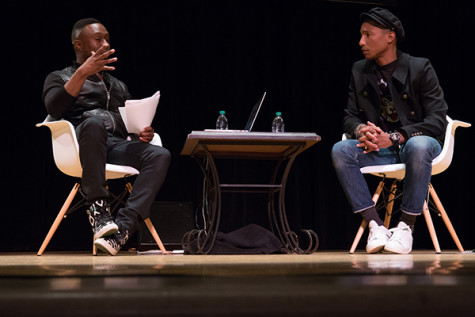 Ebru Yildiz
Pharrell Williams joined Clive Davis Institute professor Jason King at Town Hall on Monday in a career retrospective discussion hosted by NPR's R&B initiative. The event was open exclusively to Tisch students, faculty and staff, which created a sample of how students would react to the icon in a classroom setting.
Williams — singer, Grammy-Award winning producer, coach on NBC's "The Voice," fashion designer — will soon add another title to his long list of professions: Tisch Artist-in-Residence. Last week, NYU announced that the "Happy" singer would join Tisch School of the Arts as a residential artist, and many students are excited about the prospect of Williams coming to campus.
Despite his success as a singer, Williams revealed that he still doesn't feel like a musician — only a producer. After over two decades in the music industry, the 2013 single "Get Lucky" was the artist's first major role as a singer in a piece he wrote.
"Daft Punk emailed my manager and they said they liked the song," Williams said. "I was like, 'Who's going to sing the song?' and they said 'You are.' I thought I was writing for someone else. So there was this whole weird thing." "Because the song wasn't your style?" King said. "No, because I didn't expect to be singing it. This was 2012. Did you see me as an artist? I never have. This whole time."
Most recently known for his songs like "Happy" and "Freedom," Williams surprised the audience when he declared himself not an activist when discussing his controversial performance on Sunday's MTV European Music Awards when he'd dedicated his performance of "Freedom" to the refugee crisis.
"I am not an activist. I am a musician," Williams said. "But that's the conversation," King said. "We want our artists to be politicians … do you think artists should be doing more?" "You can't force it," Williams said. "Or you'll be called out on it. That's the first thing people do, is call you out on it." For Williams, artistic authenticity trumps conscientiously composed activist messages.
What NYU students can expect from having Williams on campus is fairly limited in impact. Williams will teach only at Tisch, which for many students, including Steinhardt sophomore Jade Francis, doesn't seem fair.
"I think it's a little shitty that you can only take his classes if you're in Tisch," Francis said. "He's an icon who spans different generations, which is cool because there's '90s Pharrell and Pharrell now, so I think it's a very good choice for the residency. He just needs to be more available."
Tisch junior Jack Kapulsky, a Clive student, disagreed, voicing his misgivings about having such an icon on campus being accessible.
"I think it's exciting," Kapulsky said. "We'll see what happens. He could very well drop out. The notion that he'll teach classes and I'll be in the same class with him hasn't really hit me yet, but hopefully I will live to see that happen. And I'll be able to touch him. In a non-creepy way."

Williams will join the ranks of other Artists-in-Residence such as fiction writer Jonathan Safran Foer, comedian Harri Kondabolu and film director Danny Glover.
Email Audrey Deng at [email protected]