Women's volleyball brings home victory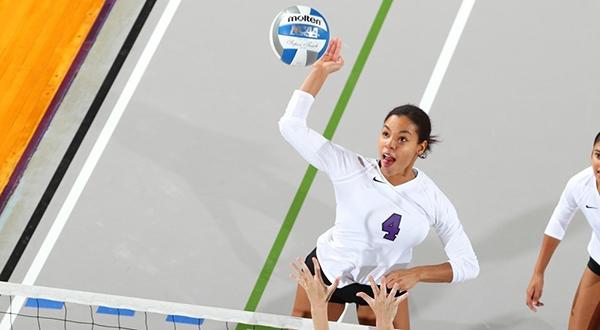 The NYU women's volleyball team had a solid weekend, highlighted by their two wins over Rowan University and Cabrini College. Their success brought their record to 13-14 on the season as they continue to flirt with .500.
On Friday the team took on the University of Scranton in Glassboro, New Jersey. They lost in straight sets, 25-23, 25-21, 25-23. While the second set saw Scranton maintain an early lead, both the first and third sets were back and forth until, after even scores of 23 a piece, Scranton pulled ahead. With the win, Scranton's record improved to 22-9. Freshman outside hitter Shelby King led the Violets in kills with 11.  
Early on Saturday, the team returned to Glassboro to take on Rowan. They dominated throughout, winning in straight sets 25-14, 25-18, 25-19. At one point in the blowout first set, the team won 10 of 11 points after falling behind 4-0. NYU had 14 aces to Rowan's two. King again led the team with 11 kills and five aces. Rowan fell to 11-16 with the loss.
The second match the Violets played Saturday was much longer than either of their first two. The team won a back-and-forth five-setter against Cabrini College, 25-14, 25-21, 23-25, 12-25, 16-14. After winning the first two sets without too much difficulty, Cabrini caught fire midway through the third and, in the fourth, reeled off eight straight points. The final set saw many lead changes before the Violets won on a block by sophomore middle blocker Rayne Ellis. NYU out-blocked Cabrini 12-6 for the match. Sophomore libero Brooke Tannahill led the team with 23 digs. The win came against a strong Cabrini team who fell to 21-8 on the season. After the game, Ellis credited her clutch performance to her teammates, who allowed her to play so well.
"In a sport like volleyball, individual success is basically impossible because there is so much that goes into just scoring one point," Ellis said. "I did well yesterday because my team was on fire."
This coming week, the team will be taking part in the New York Region Challenge in Rochester, New York. They will have matches against Rochester Institute of Technology, Nazareth College, Montclair State University and Fredonia State University.
A version of this article appeared in the Oct. 26 print edition. Email Tony Schwab at [email protected]