Training pays off for Violet swimmers and divers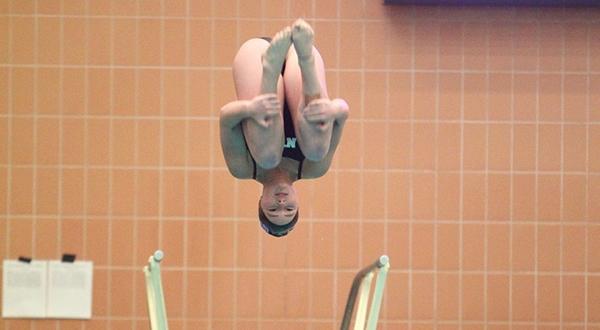 The men's and women's swimming and diving teams continued their strong starts to their seasons over the weekend, emerging victorious against all three competitors they faced in Rochester, New York. The men's team was convincing in all three wins, never once allowing their opponents to score even half of their total. They dispatched Brandeis University, Canisius College and the University of Rochester by scores of 301-60, 261-109 and 272-98, respectively.
For the men's team, junior Phillip Kang took first in the 200-yard butterfly, 200-yard backstroke and 400-yard individual medley. Sophomore Tim Kou took first in both the 100-yard backstroke and the 200-yard breaststroke, with times of 59.7 and 2:11.11, respectively. Kou also competed on the relay team with sophomore Adam Betts, junior captain Daniel Tay, and senior Win Htet Oo. Betts, who competes in backstroke and fly competitions, has faith in the strong starts of the teams.
"Our men's and women's teams swam really well for this point in the season," Betts said. "I'm excited to see what we can do in the pool as our season progresses."
In the 100-yard freestyle and 200-yard freestyle, junior Max Phillips took first place with times of 47.48 and 1:43.60, respectively. Phillips, who had a lot of individual success, made sure to comment on the team's performance as a whole.
"One of the biggest things going into this meet for us was being able to perform well despite feeling tired and worn out," Phillips said. "For us to win as many events as we did even though we felt tired from training says a lot about the team."
Tay finished first in the 100-yard butterfly (52.50). Sophomores Chad Moody and Austin Palmer stood out, with Moody winning the 100-yard backstroke with a time of 53.31, while Palmer took the 500-yard freestyle by finishing in 4:44.07. Sophomore Joe Baron, who competed in the 500-yard freestyle, thinks this team has the chance to surpass even the goals that last year's historically successful team set.
"After seeing how well we swam over the weekend and considering the fact that we trained right through the meet, I think we are in a great position to have another record-setting year," Baron said.
Not to be outdone, the women's team also proved that their strong start to the season wasn't a fluke by dominating Brandeis 313-47, Canisius 278-90 and Rochester 260-110.
Junior diver Nia Sorgente won the three-meter diving competition with a score of 243.95 and even competed well enough to win fifth place in the one-meter competition. Sophomore Austin Campitelli placed second in the three-meter competition. Campitelli, who learned a lot while traveling to nationals as a freshman last year, was impressed with the way this year's team struggled with a difficult meet environment.
"I'm actually really proud of how we did because truthfully, the meet environment was pretty hard to compete in," Campitelli said. "The pool was super cold, and between every dive our muscles would get so tight so it was hard to get back on the board."
Sophomore Isabelle Kitze grabbed three first place finishes in the 200-yard freestyle, the 100-yard butterfly and the 400-yard freestyle relay. She was joined in the relay by junior captain Elise Gibbs and a pair of freshmen, May Li and Noel Leung. After the meet, Leung touched on how hard the team's training has been and how they were happy to see that translate to competition.
"I would say although we are tired from the hard training the past weeks, we still managed to swim well and had very good team spirit," Leung said.
The men's and women's teams will see more action when they host the NYU Fall Invitational at Palladium Athletic Facility in two weeks, Nov. 6 and 7.
A version of this article appeared in the Oct. 26 print edition. Email Ashley Arnold at [email protected].