You should know about NYU band Acid Dad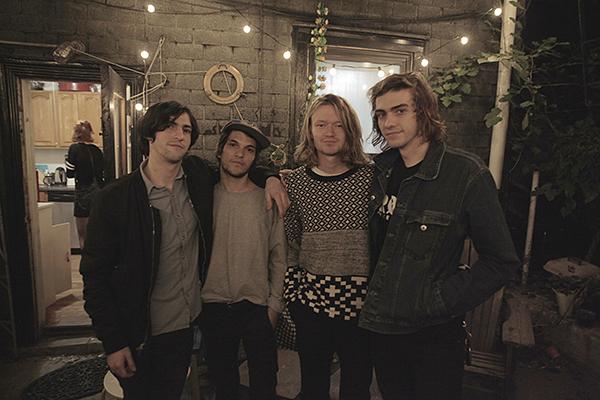 No musician wants to be boxed into a genre, but for NYU band Acid Dad psych-punk was a genre they happily embraced. Acid Dad combines the sexiness of Iggy Pop, the slow, deep chugs of Black Sabbath and the drama of Pink Floyd. Acid Dad sat down with WSN to discuss their time at the 2015 College Media Journal Music Marathon, the inspiration behind their band name and balancing school and music.
WSN: What does psych-punk mean to you?
Vaughn Hunt: Well it's just a branding thing, literally like, what do you think is catchy?
Danny Gomez:  It's very melodic and aggressive at the same time.
VH: It's complete bullshit.
WSN: How did you guyscome together?
Kevin Walker: We became best friends and he came to Flat Box Recordings. I had the label and he had the studio, so he recorded the whole record and I released it with my PR team. We wanted to start a rock and roll band and we met him.
WSN: What inspired the name of your band?
VH: Drugs and alliteration. It's gonna be funny when we are dads.
WSN: How are you guys handling school, work and the band?
KW: Day time we have normal lives, night time we have shows. I dropped out of Clive Davis, I thought it was terrible. I study philosophy and History. I graduate
in May.
Sean Fahey: I went to the New School. Took some time off, I'm an assistant engineer at a studio.
KW: Most of my classes I'm on my computer doing emails. I love school, but as the music stuff grew, I'll say I'm sorry I missed class. I had a show last night at 3 a.m. Mark me absent, I'm not asking for sympathy. They don't get it, but I still do it… class is mostly boring. You sign up for these classes, the professor is an idiot…what can you do?
VN: I've skipped class multiple times to go to the practice space.  I'm bummed because half the classes I take are really great. It's frustrating.
WSN: How was CMJ?
DG: We played six shows in a week — it was really fun. The best show was the last, which was at a psych-fest showcase, with WhiteFence. We got added to it last minute because the band that was supposed to be playing couldn't get their visas. We got a call two days before, the guy said, 'I have some good news,' and we were all freaking out because it's such a large opportunity. It was a lot of work, and we all have work and class and stuff.
WSN: Where do you see the band going?
VH: Around the world.
DG: I think our goal is to make . . . good albums that value the art of songwriting. Most of the people who burn out are in it for the perks, but people who have long careers, like Neil Young and Bob Dylan — who kind of sucks now, but at least he's still going — above all, love it. Nothing is more important to them than making music, and that's a value we all share. Making music gives us the highest of all highs, and because of that, we'll keep on going.
Catch their next show with Frot at Shea Stadium on Oct. 28th and at PaperBox on Oct. 31.
Additional reporting by E.R. Pulgar. 
A version of this article appeared in the Oct. 26 print edition. Email Francisco Navas and E.R. Pulgar at [email protected] and [email protected], respectively.