What to expect from winter athletics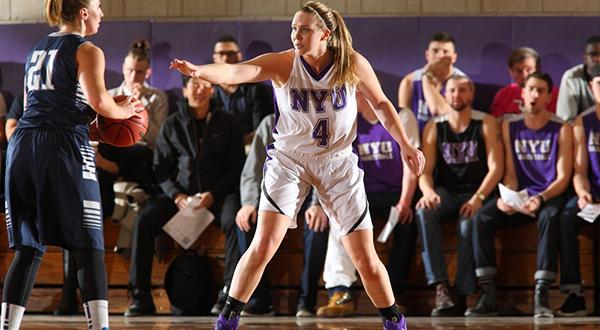 With cooler weather approaching, the NYU winter sports season will soon be underway. While the swim teams have already begun their season, the Violets' basketball, wrestling and fencing squads are preparing for the long winter ahead.
Basketball
Both the men and women's basketball teams return to the hardwood on Nov. 15, beginning their 2015-2016 campaign with Violet Nation Giveaway Day. The Lady Violets stormed out of the gate last season, winning their first 15 games en route to a 22-5 record and second straight NCAA Tournament appearance. Thankfully for head coach Lauren Hall-Gregory, most of last year's team is still intact. Senior captain Megan Dawe will return for one more season after leading the Lady Violets in scoring last year. Kaitlyn Read enters her junior year after a strong sophomore showing in which she led the team in steals and defensive rebounds. The Lady Violets will put their collective experience towards progressing further into the NCAA tournament.
After losing in the first round of the ECAC Metro tournament in 2014, the men's team entered last season with high hopes and the introduction of Hakeem Harris, a transfer from Seton Hall who averaged an impressive 18.6 points per game. Current senior Evan Kupferberg repeated as an All-American, and the Violets finished the season with a 19-9 record, their best since 2012. Competing again in the ECAC Metro Tournament, the Violets advanced to the third round, before being defeated by the College of Staten Island in double-overtime. This season, Head Coach Joe Nesci's group hopes to build on last year's success, even with Harris out for the first half of the season. Kupferberg will try to finish his outstanding college career with more honors, while other contributors, including senior guard Max Ralby, senior center Costis Gontikas and sophomore guard Ross Udine, hope to send the Violets to their first NCAA Tournament appearance since 2012.
Wrestling
The wrestling team will look to follow up on a record-breaking season. Led by seniors Brandon Jones and Patrick Sheehan, last year's team set a school record in dual wins, 21, and were crowned Centennial Conference Regular Season Champions. After also capturing the University Athletic Association championship, the team finished in 12th at the NCAA Division III Championships, tied for the best finish in school history. With last year's seniors gone, sophomore Jacob Donato and senior Nathan Pike, two of the team's four representatives at last year's Championships, remain among this year's talented grapplers who hope for another successful season. Junior and senior captains John Messinger and Dylan Lojac, respectively, will provide vital experience for this year's nine incoming freshman. Their season officially begins on Nov. 6 with the two-day Ithaca College Invitational.
Fencing
Men's and women's fencing gets underway on Halloween at the Temple University Collegiate Open with high hopes for this upcoming season. On the men's side, last year's 11 dual wins set the stage for another big season, led by sophomores Hans Engel, Philip Shin and Daniel Sconzo. On the women's side, head coach Steve Mormando enters his 30th season at the helm, mentoring sophomores Stephanie Cunningham,  Marissa Posner Cydney Williams and others. The sophomore talent on both sides have set their sights on the NCAA Championships.
Email Michael Thompson at [email protected].