Women's golf ends season strong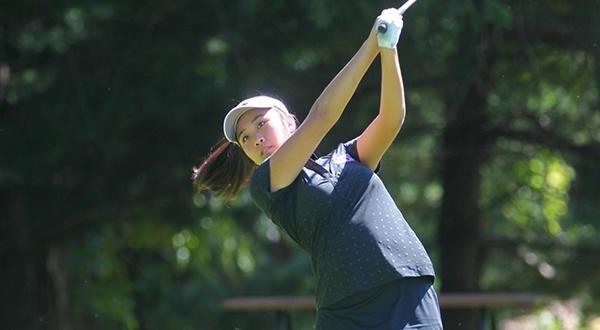 In their final competition of the fall season, the NYU women's golf team built some serious momentum for their offseason and subsequent return in March by finishing second of nine teams at the Ann S. Batchelder Invitational at Nehoiden golf club in Wellesley, MA this weekend.
The Violets finished 20 shots behind Williams College, the winner of the competition. Sophomore Angela Yang highlighted the day for the team, as she finished second among all competitors with a 151 stroke overall score. Sophomore Alyssa Poentis, consistently one of NYU's top finishers, was six strokes behind Yang, earning her seventh place overall. Despite having to place academics above athletics recently, Poentis was pleased with her performance.
"I thought I played alright," Poentis said. "I can't really expect to play well since I barely go to practices due to classes. Even though the course was only 9 holes, I thought the course and its conditions was hard. Even though it was sunny, it was freezing, so that didn't help. The greens were tricky and we really had to play smart and think about the shots carefully."
A pair of freshmen — Jenni Bluetling and Catherina Li — were the Violets' next highest finishers, coming in at 10th and 11th by shooting a 160 and 161, respectively. Though the Violets never placed lower than second in the fall season, they still believe their best is yet to come in the spring.
"Our fall season went pretty well," Li said. "But I know none of us performed even close to our actual potential. On the bright side we're all now really starting to bond as a traveling team, so hopefully it'll show in our scores in the spring."
Sophomore standout Kristin Lee —  one of NYU's top stars who earlier this year set the NYU women's record for best two-round score — struggled with this weekend's course. She shot a 167, which placed her in the middle of the pack at 19th, but she wasn't happy with her turnout this weekend and will be looking to refocus in the short offseason before the squad returns in the spring.
"I definitely didn't want to finish the season shooting my career worst but it was just not my tournament," Lee said. "This season, our team had a lot of trouble around the greens so if we work on that over the offseason, I think we'll be able to win more tournaments."
The Violets certainly have ample time to work out the kinks in their individual skill sets, as they don't return to the greens competitively until March 12, where they will compete in the UAA Championships at Emory University.
A version of this article appeared in the Oct. 19 print edition. Email Michael Thompson at [email protected].