Soccer can't break mid-season slump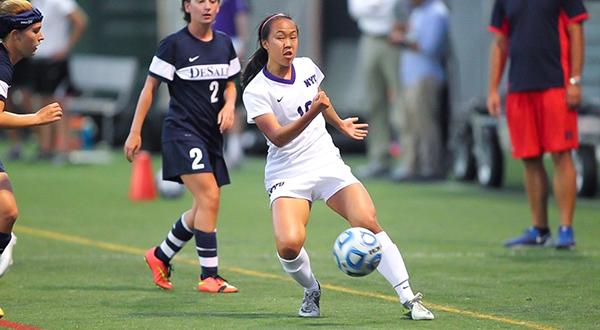 It was a rough weekend for NYU soccer, as the men's team continues to find themselves stuck in the rut that they have been in since the beginning of the season and the women's team suffered their second and third losses consecutively after an eight-game winning streak. Now in what seems to be a mid-season lull, both squads will have to refocus if they want to compete for a postseason spot.
The women's team has now fallen to 1-3 in the University Athletic Association play after starting their season at 9-1. On Friday, they lost a 1-0 heartbreaker to Washington University of St. Louis. The Violets remained resilient while being outshot 19-10, but eventually conceded a goal on a rebound in the 61st minute. Junior goalkeeper Cassie Steinberg racked up seven saves in the losing effort. Senior forward Melissa Menta, who tore her ACL against Wash U. two years ago and broke her leg against them last year, wasn't upset with the team's effort, but said that they just need to finish the chances they do create.
"Wash U. is notoriously known as an aggressive team. I think we did well matching their intensity during the game," Menta said. "Moving forward, we need to capitalize on our opportunities in front of the goal and put the game away early on."
Sophomore forward Jess Wong nearly tied the game in the last ten minutes, but was denied by Bears' keeper Lizzy Crist, who punched Wong's shot over the net. The ensuing corner amounted to nothing, and the Violets ended the game scoreless.
"I think what we really lacked was the energy, excitement and desire to win," Wong said. "We were both top ranked teams, but they wanted it more."
The Violets fared no better on Sunday, losing 2-1 to University of Chicago in double overtime. They were outshot again, this time 26-12, as Steinberg needed to stop 11 shots just to keep them in the game. But it was Chicago who came out on top, finally pushing through the Violet's defense in the 104th minute.
The men's team also continued their downward trend over the weekend, losing to both Wash U. and Chicago. After starting the season 2-1, the squad has now lost nine of their last 11 games, and has a 4-10 record to go along with the trouble of adjusting to a new coach. On Friday, they were outshot by an astounding 33-5 and lost 4-0 to Wash U. After a scoreless tie in the first half, the Violets conceded a penalty kick in the 53rd minute, and Wash U. never looked back. Junior keeper Lucas Doucette was forced to make nine saves in the effort. Even though the men's team's record has suffered this year, junior midfielder Bryan Walsh, who managed two of the Violets' five shots, has faith in the team's morale and ability to stay positive.
"We have reached a difficult point in our season, where looking backwards at our losses or forwards towards the challenges to come can be daunting," Walsh said. "But we are a strong group of guys. Taking it one day at a time and focusing on the small things, such as being on time and focused, is how we will make progress."
Their second game of the weekend wasn't any better, as they were shutout again, 3-0, by Chicago. From an attacking standpoint, this game was a lot closer. But eight saves by the Chicago goalkeeper all but negated the 11 saves by Doucette, and the Violets took another loss, taking them to 0-4 for the season in UAA play. Like many of his teammates, freshman forward Niko Patrk remained optimistic, saying that a positive attitude was the only option for a team that would otherwise be morally dejected.
"We will improve. In circumstances like these, our only choice is to stay positive and keep our heads up," Patrk said. "If we enter each game with an emotional and mental determination, we will win games."
The women will look to right the ship on Thursday, Oct. 22 when they travel to Patchogue, NY to face off against St. Joseph's College, while the men's team will need a boost in morale as they travel to Brooklyn College on Friday, Oct. 23.
A version of this article appeared in the Oct. 19 print edition. Email Ashley Arnold and Bobby Wagner at [email protected].