Met focuses on Egyptian Middle Kingdom in exhibit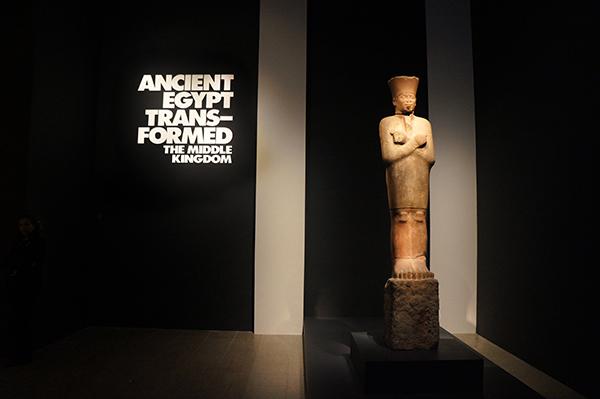 The Metropolitan Museum of Art has a staggering amount of space dedicated to Egyptian art. The right wing of the first floor is almost a day trip in itself, covering thousands of years of Egyptian rulers and art, culminating in the beautiful remains of the Temple of Dendur. But with the Tisch galleries, the Met decided to present a specialized selection of art focusing on the Middle Kingdom, an era in which Ancient Egypt was reunited under one Pharaoh again after years of political chaos. The result is a massive yet focused gallery that serves as a core for Egypt's political, spiritual and cultural vision titled "Egypt Transformed."
It's hard to contain the sheer amount of content that the gallery has been able to assemble for the era, but suffice to say, there is an immense number of statues, busts, tablets, jewelry and models. As opposed to using chronological order, the gallery organizes art by geographical themes, like artifacts found in the region of Abydos. This allows for interesting contrasts between works in the very same room. For example, there are two busts of the Pharaoh Senwosret III, one earlier in the era depicting a young, confident leader and a later work showing him with a sagging face, more prominent eyes and a stern expression. It is staggering how much detail Egyptian artists could pull from a substance as unwieldy as stone, but also shows the differing visions of leadership over the era.
Transition and transformation are the two themes of the exhibit, displaying an era that channeled the previous centuries of culture in order to shape the next several. The scale isn't quite as overwhelming as other eras, since there is a balance between massive scope and ornate, detailed design. The slow introduction of figures who previously have not been as prominent in Egyptian art, like Osiris, into more and more artifacts gives an interesting look into the rise of Egyptian legend. The differing images of power and Pharaohs show as many human figures as god figures.
From there, it is the minute details that become engrossing. The inclusion of tablets commissioned for officials remind visitors that Pharaohs were not the only ones granted luxury. The various tablets dedicated to the gods and overseers reiterate the broad mythology of Egypt as well as the values of the believers. Overall, the detailed models of daily life show the commoners' life like you rarely see in exhibits.
Narrowing the focus, "Egypt Transformed" allows for detailed pieces that would normally be lost in the shuffle of a gallery that needs to cover more history. While seeing such beautiful monuments and art in pieces always leaves the viewer with a sense of lament at their decay, the gallery's intimacy reinforces the pieces' beauty.
"Egypt Transformed" opened last Monday at the Metropolitan Museum of Art and closes on
Jan. 24, 2016.
A version of this article appeared in the Oct. 19 print edition. Email Carter Glace at [email protected].