Hockey suffers first loss, but quickly rebounds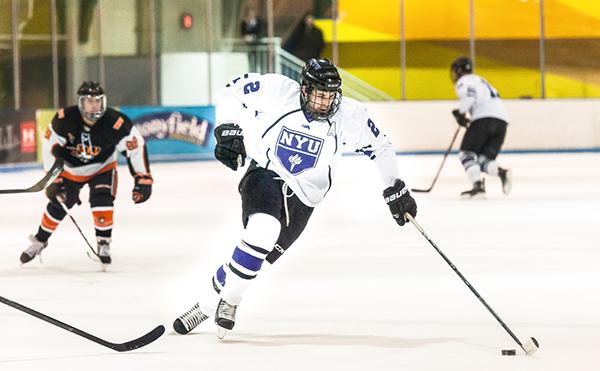 The NYU hockey team failed to repeat a dramatic comeback effort against University of Massachusetts-Amherst last weekend, this time losing to them in a 6-2 contest in which the Violets fell behind early and could never fully recover. Junior defender Evan Ripley, a key cog in the Violets' championship run last season, said that it was frustrating to lose to a team they had just beaten, but that it's still early in the season and they have time to grow as a team.
"It was a tough game to play," Ripley said. "The loss was not the result we wanted but we are a young team and need to learn how to overcome adversity."
This season's trend of scrappy playing surfaced early in this game, as both teams received offsetting roughing minors early on, resulting in four-on-four action. Shortly thereafter, sophomore forward Michael Conslato put the Violets on the board, giving them a 1-0 lead. Unfortunately, it was short-lived, with UMass tying things up at 11:49. Just a minute later, UMass got the go-ahead goal to put the Violets down by one.
The Violets showed early resiliency, tying things up once again thanks to the effort of freshman Hamilton Whyte and assists from freshmen Mason Gallegos and Gabe Regan.
Though they handily outshot the Minutemen in the first period, they ended the frame down by one, and ended the game down by four as UMass netted four unanswered goals, winning 6-2, and breaking the four-game win streak they enjoyed to start the season. Junior forward Peter Jorgensen explained that the team was lacking where it normally excels — effort.
"I don't know if anyone was very proud of the way they played. You never want effort to be an issue, but that's easy to fix," Jorgensen said. "It's early in the year so we're not worried, no one's pressing the panic button. We're just trying to find our identity as a team and keep getting better every day."
On Saturday, the Violets travelled to Poughkeepsie, NY, to face off against Marist College at the Mid-Hudson Civic Center, where they showed that Friday's loss was an anomaly.
On a Marist hooking call, NYU started things off with a powerplay goal after Marist was down a man for hooking. Senior Denis O'Hara put the Violets up early on assists from Ripley and Conslato. They continued their dominance throughout the rest of the period, outshooting the Red Foxes 12-5.
In the second period, things got interesting when holding calls against both teams and a cross-checking call against Marist created a 4-3 scenario. However, no one managed to convert on the play. Later in the period, Gallegos tallied NYU's second goal of the night and senior Beau Lardner finished off the third. The scoring was far from over, as Ripley netted NYU's fourth mid-way through the second, with assists from Conslato and O'Hara.
Unfortunately, sophomore goaltender Alec Hardman couldn't get the shutout as Marist got one past him at 11:06 of the second period. Hardman would, however, eventually get the win.
A slew of penalties were called before the second period's end. The third opened with 4-4 play, and chippy play remained consistent throughout. In a similar fashion to the second period, both teams picked up an alarming amount of penalty minutes.
The game ended with the score line 5-1, as Whyte scored a pretty one with under a minute to go, solidly affirming that lack of effort was not going to be a problem two nights in a row.
The Violets will be back at it Friday, Oct. 23 at the Ice Vault in Wayne, NJ to face off against rival William Paterson University.
A version of this article appeared in the Oct. 19 print edition. Email Rachel Ruecker at [email protected].