Cross country looking to peak in second half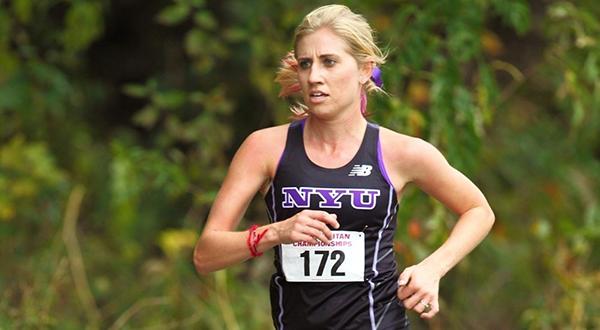 It was a busy and a successful week for NYU cross country, as the men competed in two competitions and were joined by the women in one. The Violets split their team between the Connecticut Invitational on Saturday in New London, Connecticut, where NYU placed 12th of 26, and the Inter-Regional Rumble at Oberlin College in Oberlin, Ohio, where they placed 2nd of 32 teams. The women's team was also at the Inter-Regional Rumble, placing fourth of 29.
The race at the Connecticut Invitational was eight kilometers long, and 295 runners from 26 schools competed. The overall winners were MIT, with the University of Connecticut placing second. Sophomore Sam Praveen was the most successful NYU runner, placing 68th with a time of 26:47.8. Junior Zach Karas was second on the team, finishing 75th with a time of 26:52.5, and junior Eddie Cruz-Desintonio finished 95th with a time of 27:09.2.
In Oberlin, the men's team competed alongside 31 others, including conference rivals Carnegie Mellon, who came in third, just behind the Violets. Only Allegheny, who is ranked 17th nationally, performed better than NYU. NYU did better than three ranked teams — 15th-ranked Carnegie Mellon, 20th-ranked Ohio Northern University and 30th-ranked University of St. Thomas. Junior Jorge Maldonado had another great performance, leading the team with a time of 24:34.4 in the 8K race. He placed ninth overall of the 273 total runners. Freshman Matt Osubor came in 22nd with a time of 24:52.1, while sophomores Neil Saddler and Daniel Rieger came in 28th and 30th.
With 29 teams and 244 runners competing, the women's team placed fourth behind Carnegie Mellon, Case Western and Oberlin. Senior co-captain Lily Corsaro was the first Violet to finish, placing 15th with a time of 21:58.8. Fellow senior and co-captain Sarah Sisk came in 22nd with a time of 22:06.1, and sophomore Hannah Haley placed 26th with a time of 22:12.3.
"This weekend was huge step for the team," Corsaro said. " It puts us in a great position to place in the top 3 at the UAA championship as well as for our ultimate goal of qualifying for Nationals in a month."
As the season progresses, both the men's and the women's teams will look to round into peak form, turning up the intensity and vaulting themselves into contention for top finishes in their most important meets yet.
Both the men's and women's teams will next be active on Halloween at the UAA championships in Waltham, Massachusetts.
Email Tony Schwab at [email protected]