Staff Recommendations: Music to study by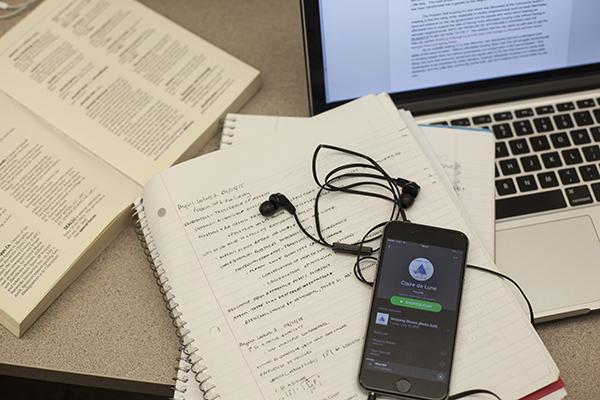 Playlist: Classical/Romantic
by Tommy Collison, Opinions Editor
For those times when you just want to have music playing in the background but not spend too much time thinking about the choice, I recommend Osamu Miyawaki's "Classical/Romantic" playlist on Spotify. Comprising 2,287 songs from the genre, you're sure not to hear repeats. Well, you might after studying for an hour every day over your four years here, but that's alright.
Music without words is the best for studying vocabulary, since it's less distracting than something you can sing along to. This playlist goes well with a set of flashcards and could help memory retention: an academic study published in "Learning and Individual Differences" found that students who listened to classical music while studying did better than those who didn't. Whether you're a language student or just someone who needs to block out their roommate, this is one to check out.
Album: "This Is All Yours"
by Grace Halio, Deputy Features Editor
Alt-J's second album, "This Is All Yours," is the perfect mix of upbeat and acoustic, making it a staple album for midterm week. "Arrival in Nara" and "Left Hand Free" are two standout tracks. The former has this beautiful keyboard line that is probably the most soothing track on the album if you're stressin', while the band identifies the latter as the "least Alt-J track ever" but it mixes up the album — read: helps you stay awake. You often can't understand anything lead singer Joe Newman is saying, which is okay — all this means is that you can get reading and essay writing done with "This is All Yours" on in the background without being confused by lyrics.
Album: "Made Possible"
by Alex Bazeley, News Editor
For an offbeat study session that will keep you on your toes while getting you into a rhythm, check out the album "Made Possible" by jazz trio the Bad Plus. The dynamic range of their songs is enough to keep you awake but not too much to overpower your concentration. Don't turn the volume up too much and fall back into some beautiful piano riffs while you tap your toes to some of the most tasteful drum fills you'll hear. A smooth stand-up bass will keep your mind driving along as your try to power through those last few paragraphs of your essay. Album opener "Pound for Pound" is carefully constructed and seemingly effortless, reflective of the whole album — and hopefully your work ethic. Just be careful not to close your eyes, or you may get lost in the incredible waterfall of an arrangement.
Playlist: "1920s French Music"
by Audrey Deng, Arts Editor
It's difficult to remain in a bad mood while listening to the cheery, accordion-filled playlist of French music from the Roaring Twenties. Because all the songs sound so blandly pleasant, each song stitches seamlessly into the next, making it a hands-free, forward-skip-free stream of music. The playlist features well-known songs by Edith Piaf and Lucienne Boyer, instrumental pieces from the French film "Amélie" and classical favorites like Debussy's "Clair de Lune." Consider these few songs as spontaneous three-minute breaks from studying. Every other song is perfectly forgettable, which is fine because this playlist is background music to the more important task at hand: not crying.
Email the Arts Desk at [email protected].