NYU golf teams on solid track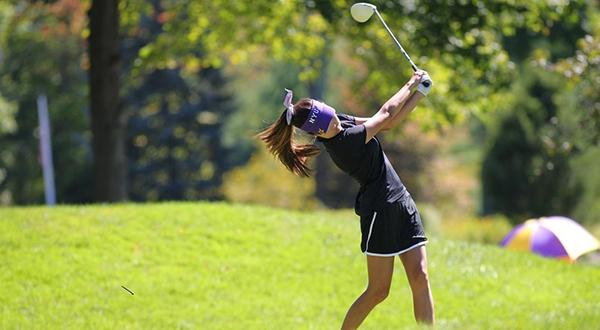 It was another busy weekend for NYU's golf teams, as the women looked to stay consistently at the top of the leader boards, and the men hoped to build on their prior tournaments for a strong run in the spring.
In Massachusetts, the Violets added another solid second place to their season, shooting a team score of 643, trailing only Williams College, who hosted the event. The team was led by the strong play of sophomore Alyssa Poentis, who finished in third place with an overall score of 156. Poentis, who took some time off to focus on her academics, said she was pleased by her performance in her first tournament back.
"This weekend I knew I couldn't expect anything if I haven't been practicing," Poentis said, "So it was a huge surprise I could even shoot in the 70s."
Also placing high on the leaderboard was fellow sophomore Kristin Lee, whose 160 landed her in eighth place. Although she struggled in the second round, it is Lee's third top-ten finish in four events played this season.
"I was pretty disappointed with the way I finished the tournament," Lee said. "The second day, my touch around the greens were very inconsistent and I was not able to recover mentally from a few bad shots."
It was still highly successful for the tournament for the Lady Violets. The team has posted one victory and three consecutive second-place finishes this season.
Meanwhile, it was the men's turn to host the NYU Invitational, their final competition of the fall season. Looking to further improve, the Violets finished fifth in the field of nine teams, with a score of 643. Sophomore Bryce Holmes had his best performance of the season, shooting 151 and tying for fourth in the individual competition. Not far behind Holmes were sophomores Christopher Nolte and Daniel Lynch, who both cracked the top-ten with scores of 153 and 154.
"I didn't really have a great season and felt good that I played a little better to end on a strong note," Lynch said. "It was a good tournament for me, but it was close to being very good. Golf is tricky in that way."
Both teams were optimistic after this weekend, and hope to parlay their play into even better results.
"I think our biggest attributor [to our success] is that we all want to better ourselves and do the best we can," Poentis said. "We all have our own motivation which I think helps us play well."
After a 2014 season that saw the men's team fight through adversity, it's promising to see the men's team pick up their performance early in the 2015 campaign.
"The team had a tough season, as we had a player get injured another drop off the team, so we all had to grind it out and work together," Lynch said. "Our coach [Todd Kolean] helped motivate us to finish strong."
The Lady Violets haven't finished just yet. The team remains in Massachusetts for one more tournament this month, the Ann S. Batchelder Invitational. From there, the golf program takes a long rest before resuming with the second leg of the UAA Championship on March 13.
A version of this article appeared in the Oct. 13 print edition. Email Michael Thompson at [email protected].