Globetrotting freshman hits NYU tennis courts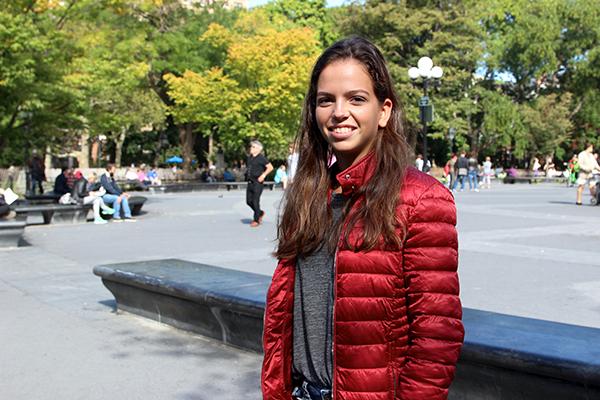 NYU freshman tennis star Alice McGinty is, in a word, atypical. Or maybe not, she would be better described as versatile. Or perhaps a word unknown to our vocabulary. With a life as multiplex and packed with experiences as McGinty's, it's hard to pinpoint one word.
McGinty, born of a French mother and British father, was born in Hong Kong. At the age of ten, she and her family moved, this time to Barcelona, Spain, where her family has resided ever since. Proficient in three languages and some elementary Chinese, said her global upbringing created some natural cultural confusion.    
"I'd always felt that calling myself French or English was cheating, like spending a week at a Balinese resort, then claiming I'd experienced Indonesia," McGinty said. "I've never lived in either country, walked under their blue, white and red flags, I don't even know the national anthems."
Shortly after she moved to Barcelona, McGinty fell in love with the game of tennis. A fan of Roger Federer's cool and collected style, her interest in the sport was quickly evident. She later entered Academia Sánchez-Casal for an innovative regiment. Mixing top-line education and intensive tennis training in a small setting — the school within the academy, ES International School, is home to approximately 100 students — allowed McGinty to develop her skills while meeting others with backgrounds similar to hers.     
"ESIS is one great family, there's no other way to put it," McGinty said. "It's a place where you can lean on others when needed and a place where I've developed relationships that will stay with me as I venture out and make my way in the world."        
McGinty was able to gain further tennis experience by competing in local tournaments, as well as for the International Tennis Federation — tennis' world governing body. This experience afforded her the opportunity to compete against players from all over the globe and in locations across the world. It's no wonder that she now has a keen interest in world travel and exploration.        
"I have never ceased to be amazed by the variety of traditions, mentalities and languages across the globe," McGinty said.
Along with her athletic accolades, McGinty is also a prolific writer. As a junior in high school, she authored "The Fifth Sense", the story of a visually impaired woman who, after regaining her sight, begins to rethink the world around her.
"[I] managed to transform writing into something therapeutic and thrilling," McGinty said. "There is nothing like interweaving fictional storytelling with your own life's experience."      
Now a student-athlete at NYU, tennis still plays an important role in McGinty's life. It has not come without a bit of a learning curve. Clay courts are no longer the norm for McGinty, and the sheer variety of players is a change of pace. But now, playing on more hard-surface courts than ever, McGinty has quickly become used to this new style, going 9-1 in singles play for the Violets in September. She is also an impressive 7-2 in doubles competition this season, playing alongside fellow freshman Vanessa Scott.
McGinty is still undecided about her major, but if upon getting to know her, it is neither a surprise nor a cause for concern. Her interests go in a myriad directions. Perhaps she'll settle on architecture, or maybe she'll become a writer, or discover a new passion.     
Tennis is certainly one of McGinty's greatest passions, but she has her mind set on much more than sports. For her, the world is filled with great potential, both known and unknown.
Email Michael Thompson at [email protected].