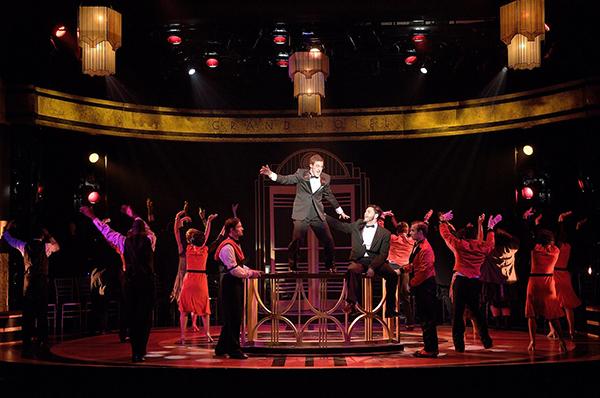 Directed by Dallett Norris, "Grand Hotel" is the latest production by the Steinhardt School of Culture, Education and Human Development. Based on the classic novel by Vicki Baum, the musical follows a medley of characters and their interactions over the course of several days in an exclusive Berlin hotel in 1928.
Behind an opulent facade, the characters are in turmoil. Everyone in the hotel is concealing their personal woes — businessman Hermann Preysing (Zachary Taylor) struggles to please his stockholders, maid Rafaela Ottianno (Neda Lahidji, Steinhardt graduate student) harbors a forbidden love for her employer and hotel clerk Erik (Stephen Heller) misses his child's birth. By chance, these characters join together at the Grand Hotel. As their relationships progress, deeper facets of the characters are seen — some more flattering than others.
The stellar cast included graduate student Ross Brown, who played the debonair Baron Felix Von Gaigern, his acting subtly hinting at the baron's truly compassionate nature. Equally delightful was Jillian Jameson (Steinhardt student) as Freida Flamm, the gushingly energetic typist and aspiring Hollywood starlet. However, the portrayal of aging ballerina Elizaveta Grushinskaya fell short. While actress Elana Safar looked the part, her rendition of "Love Can't Happen" lacked volume and most of her solo performance in"Bonjour Amour" was buried under the orchestral component. Luckily, the overall cast executed a clean, terrific show.
The standout performer of the show was without a doubt Steinhardt alum Drew Carr. He perfectly embodied the soft-spoken, endearing characteristics of the ailing Otto Kringelein. The jubilee number, "We'll Take a Glass Together" was the most vibrant of the night, as Carr nimbly spun, sang and weaved in and out of dancers in celebration of Kringelein's recent stock market success. It is rare to see an actor who so perfectly embodies his role, and even more rare to witness such a joyful and introspective performance.
What's more, the lighting contributed a significant dimension to the play. The lighting design, by Jimmy Lawlor, beautifully accented the show, placing intense group numbers in shadowy profiles, while solo pieces "Girl in the Mirror" and "Roses at the Station" were respectively highlighted in flashing cameras and smoky blue haze. Swirls of blue and red filtered the "Bolero" dance, an intense pas de deux, featuring Maria Malanga and Jun Zhou, that was the culmination of growing tensions into a whirlwind of passion and desperate loss. What started out as a whimsical weekend turned into an introspective character study, complete with a soundtrack. Brilliant lighting and vivacious acting bring the 1929 novel to life.
"Grand Hotel the Musical" played at the Frederick Loewe Theater from Sept. 24-28.
A version of this article appeared in the Oct. 5 print edition. Email Laura Casado at [email protected]