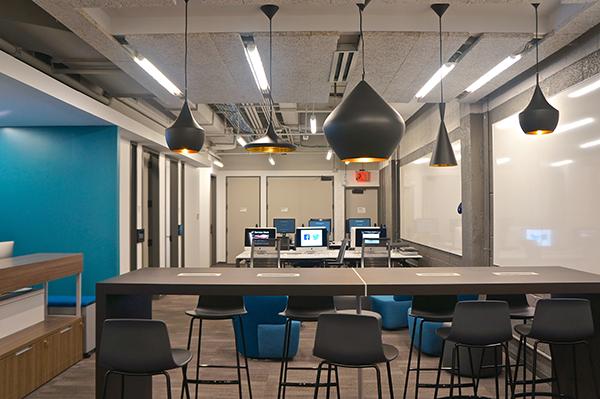 Set to open on Monday, Oct. 5, the new LaGuardia Co-op will be a next generation technology hub for students and classes to use The co-op was in place of the now-closed Fourth Street Academic Technology Center at 14 Washington Place and 35 W. Fourth St.
David Ackerman, Chief Digital Officer and Associate Vice President of .edu Services at NYU, described the Co-op as the "NYU Computer Lab 2.0."
"Since the invention of the NYU computer lab, it's mostly been about the hardware and the software," Ackerman said. "But in 2015, it's more about how students are able to interact with each other while using the technology."
The new location was designed by international design firm Gensler, who also designed the Mark and Debra Leslie Entrepreneurs Lab and the Urban Future Lab in Brooklyn, and has been in the works since March 2015.
Director of Academic Technology Services Peggy McCready has been working on implementing hardware into the facility for which students will find creatives uses.
"Technological innovation is not specific to computers," McCready added. "It is about what's the latest: developing three-dimensional prints, videos, gaming, creating new applications."
With both NYU students and faculty being heavily involved in the planning of the facility, Ackerman and McCready anticipate continued student engagement and leadership at the Co-op through efforts including Hack-a-thons and the Campus Coding Collaborative.
The 'Demo Space' was designed with reconfigurable furniture to accommodate both group breakouts and lectures. The room has Cisco telepresence, which automatically zooms in on the dominant speaking voice, and easy dial-in capabilities to allow students at NYU Shanghai or Abu Dhabi to join a conference or event remotely.
Some classes formerly held in the Steinhardt building will now be taught at the LaGuardia Co-op. The classroom space was designed with two rows of 24 iMacs, and two projectors that mirror one another. The space is flexible with wireless capability, audio-visual technology and individual controls for the projectors to allow students to practice presentations.
Michael Hengerer, Gallatin senior and Chair of the Student Senators Council, has been involved in the project from the early planning stages through its recent completion.
"It is going to be a place where you will find folks crashing for hours to build a new app, but it will also be a place for people to stop by and print their assignments," Hengerer said. "It will be available for students to use if they have advanced technology needs like filming and editing, software development, telepresence conferencing, or even just printing their Writing the Essay assignment."
The SCC plans on using the space for global conferences with students in Abu Dhabi and Shanghai.
The lower level of the Co-op, known as the Collaboration Space, has installed gaming devices, workstations, a video production booth and a group study room. Additionally, the administration will continue work with the NYU community to enhance the experience.
"NYU has not had a facility like this before," McCready said. "The Co-op is a leading edge, experimental and innovative space. As we continue to work closely with the students, they will help us shape the facilities with their needs and desires."
Email Greta Chevance at [email protected]