University hopes campus construction won't disrupt community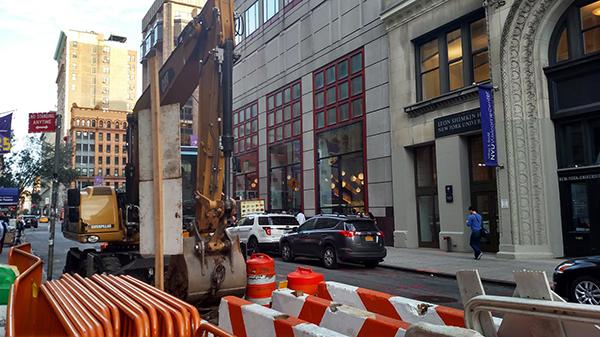 Students may want to start bringing a hard hat to class, as an email from the university Monday informed the NYU community of two major construction projects around Washington Square Park starting this month.
The first consists of infrastructure development to replace water mains running under Washington Square Park, while the second focuses on revamping sidewalks along the park perimeter and surrounding areas. Streets on campus that will be renovated include Waverly Place, West 4th Street, University Place and Macdougal Street.
"The maintenance of the City's infrastructure is vitally important, and we rely on its good repair to operate all of our own facilities," the email reads. "But there is no doubt that a project of this scale will come with disruption to our community."
The projects will also involve roadway restoration and adding necessities such as traffic and street lighting.
Students should expect detours throughout the project, noise and dust from the construction and disruptions to various vehicle-based services, such as garbage pick-up, the email said.
Updating the water mains is projected to last for three years while sidewalk reconstruction is estimated to be completed by August 2016.
Students shouldn't fret — the university also assured students that Washington Square Park will remain open during the construction, not interfering with regular park use.
Because the projects are city-managed and therefore not controlled by the university, the extensive construction cannot be confined to hours when classes are not in session. However, the university is taking measures to provide a calm working environment regardless of the commotion.
NYU's Operations Division will try to keep campus facilities protected so as not to disrupt faculty and students with their classes throughout the construction. The university says that classrooms and research spaces close to the park will be assessed in terms of noise diminishment.
University administration will update the NYU community as more information becomes available and will keep a close eye on the project throughout its duration.
More information can be found at NYU's Community Affairs construction website.
Email Lexi Faunce at [email protected]