Tennis rounds out fall season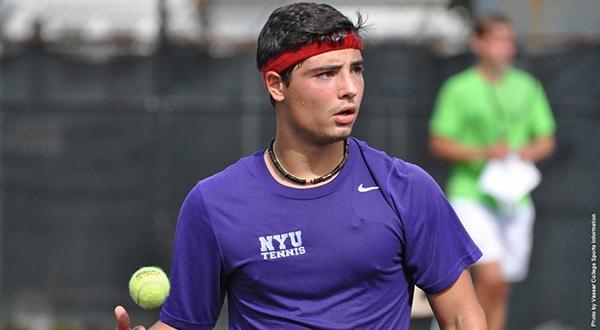 Capping off what has been a solid half-year, the NYU men's and women's tennis teams both competed at the Intercollegiate Tennis Association regional championships this past weekend. The women fared somewhat better than the men, with senior Carmen Lai and freshman Alice McGinty reaching the semifinals. Junior Umberto Setter reached the round of 16 on the men's side.
Played in Geneva, New York, the women's tournament is in the 64-team March Madness style. Four women — the aforementioned Lai and McGinty along with freshman Flyora Shiyanova and junior Laila El Dessouki — made it through the first round, all in straight sets. There was also successful play in doubles, where El Dessouki and Lai won their first match 8-1 and McGinty and freshman Vanessa Scott won 8-2. McGinty and Scott would also win their second round match to the reach the doubles quarterfinals. After the first day, Head Coach Horace Choy was pleased with the team's effort.
"Carmen won both matches handily, Flyora played very well also, and Alice's strong play was not a surprise," Choy said.
On the second day, the women continued their strong play. Lai, Shiyanova and McGinty each made the quarterfinals. Shiyanova lost her match 6-4, 6-3, while McGinty fought back from behind to win 1-6, 6-3, 6-2 over SUNY Geneseo's Cat Crummey. Lai won in straight sets, 6-2, 6-2 against Skidmore's Brianna Greene. In doubles, McGinty and Scott beat a team from Renssalaer Polytechnic Institute in the quarterfinals before falling 8-6 to Crummey and Marylen Santos of Geneseo in the semifinals.
On the final day, the Violets' good fortune ran out. Lai faced Brittney LaBruna of William Patterson University, the first seed overall. Lai fell 6-2, 6-2. McGinty faced Mako Tanaka of Geneseo. The first set was very close, but ultimately Tanaka won 7-6(4), 6-2. Coach Choy later suggested that McGinty's decline in play may have been due to fatigue after a long week of both singles and doubles play.
The men played their regional in Poughkeepsie, New York at Vassar College. Three players, juniors Matt DeMichiel, Sammy Aronson and Umberto Setter made the second round. Umberto, who was the third seed, beat his second round opponent 6-2, 6-2 to move on to the third round. In doubles, DeMichiel and freshman Shrikar Kundur lost a close match 8-6.
On the second day, Setter lost in the round of 16 to RPI's Tristan Wise 6-3, 6-4. Setter and freshman Benedict Teoh won their first round doubles match 8-6 after it had been suspended due to darkness with the score knotted at 6-6 on the first day. They then fell 8-4 to a team from Skidmore College.
This tournament marked the end of the fall season for both the men's and women's teams. The Violets will pick their rackets back up again this March, where they will look to build on the foundation of success they've laid for themselves in the fall.
Email Tony Schwab at [email protected].