PHOTOS: Groups rally against forced emigration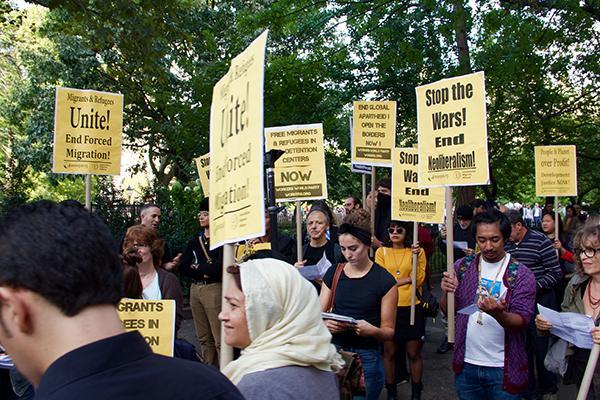 An alliance of humanitarian groups rallied on Thompson Street at the south part of Washington Square Park on Saturday to raise awareness of the global crisis of forced migration brought on by recent media coverage of Syrian refugees.
The rally delved into the matter from a global perspective as speakers encouraged others to stand in solidarity with immigrants from Nigeria, Pakistan, the Philippines, Libya, Eritrea and Somalia. The rally also reminded the crowd of the struggle of immigrants who risk their lives to cross the Mexican border and to gain entry into the United States.
Saturday's event was sponsored by Campaign for People's Goals, International Migrants Alliance, International Action Center, International Tribunal of Conscience, The Migrant Center at St. Francis of Assisi and Fuerza Mundial Global.
Bernadette Ellorin, a representative of the Campaign for People's Goals, said sustainable migration goals look good on paper because they aim to eradicate poverty and provide resources to underdeveloped countries. However, Ellorin said, these goals are not practical and have not made any significant progress in amending the worldwide migration problem.
"The U.S. needs to stop funding mercenary armies that are causing forced displacement," Ellorin said. "Migration is not a choice. It is a means to survive. Mothers have to leave their children behind to raise other people's children — that is not a choice."
Ellorin helped organize the rally in response to the United Nation's Sustainable Development Summit, which was held this weekend at the UN headquarters in New York. Although Ellorin's organization is concerned with immigration issues globally, she said it is just as important to reach out to the general public at home to educate them on forced displacement.
Ayako Mie, an NYU graduate student at the Arthur L. Carter Journalism Institute, attended the rally to learn about the migrants who survived their journeys to another country.
"I'm interested in how the immigrants can sustain their lives in a foreign country where they are often met with racism," Mie said.
Camillo Perez Bustillo, rally speaker and representative of the International Tribunal of Conscience, organized a tribunal at NYU to discuss Mexico's ongoing human rights crisis. The committee's meeting marked the one-year anniversary of the 43 students who disappeared from Ayotzinapa, Mexico on Sept. 26, 2014.
"We convened to honor and commemorate their example against forced migration and displacement," Bustillo said.
The event ended with a march to the Migrant Center at the Church of St. Francis of Assisi as people of all ages and backgrounds chanted for global solidarity and an end to funding wars abroad.
A version of this story appeared in the Monday, Sept. 28 print issue. Email Carmen Russo at [email protected].