Golf teams stay course for season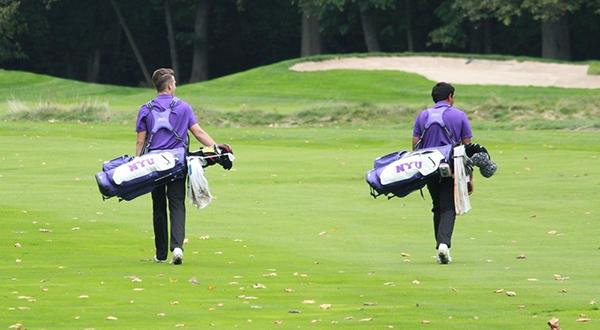 The NYU men's and women's golf teams were in action this weekend, capping off what was a strong September and beginning to their season. The men competed in Potsdam, New York, finishing sixth after the first two legs of the Liberty League Championship. The seven-team, 42 player competition is played over the course of four days: two at the end of September and two in April.
The Violets, led by freshman Qizhi Wong, finished with an overall team score of 317. Wong played consistently in his first competition of the season, posting scores of 74 and 77 to tie for ninth on the individual leaderboard.
This was Wong's first competitive golf event in two years — he graduated from high school in 2012 and enlisted in the Singapore Army. Given his gap in competitive play, Wong said his performance this weekend was a pleasant surprise.
"As this was my first tournament representing NYU, I was really just looking to post decent scores," Wong said. "I am grateful to Coach Todd for believing in me and picking me from a talented team to play as an individual."
The Violets were hampered by the Potsdam Town & Country Club, a particularly difficult course. Senior Julius Oppenheimer spoke to the difficulty the team had in playing the round they wanted to.
"The golf course was short yardage wise but difficult to attack because so many of the tee shots were tight," Oppenheimer said. "Just a lot of hazards and out of bounds that you had to be wary of."
Still, a number of Violets were able to post solid scores. Freshman Lucas Olberholtzer placed 21st, while Oppenheimer and sophomore Bryce Holmes also cracked the top 25.
With plenty of time in between rounds, the Violets look to progress in the coming months.
"Because every shot counts, making sure that everyone is on the right page is vital if we want to produce a low team score," Wong said.
In South Hadley, Massachusetts, the Violets kept alive their streak of consistent top finishes, placing second in the Mount Holyoke Invitational.
After a slow start on Saturday, the Lady Violets rebounded on Sunday, shaving 11 strokes off of the previous day's score to finish with an overall tally of 635. Sophomore Kristin Lee was the team's top performer, tying for third with a 154. Freshman Jennifer Bluetling and sophomore Angela Yang both tied for tenth (160), and freshman Catherina Li finished in 16th.
Playing on a much more difficult course this week, they were forced to quickly acclimate to the new challenge.
"The course is much more difficult than the courses that we've played in the past and that definitely showed in our Saturday scores. We figured it out for Sunday and played much better today," Lee said
The ladies will get a break this weekend, while the men are back in action next Sunday and Monday at the ECAC Championship in Victor, New York. The Lady Violets return to the course on Oct. 10, at the Williams College Invitational in South Carolina. Both teams have just two tournaments left in the fall half of their season before their five month layoff.
"Having a break will be nice and I think it's exactly what we'll need to come back and kick some serious butt at Williams in two weeks," Li said.
A version of this article appeared in the Sept. 28 print edition. Email Michael Thompson at [email protected].