Activist groups rally against NYU expansion
By Alex Bazeley and Lexi Faunce
Members of the NYU community and other local groups rallied in Washington Square Park yesterday afternoon to voice their stark opposition to the university's expansion funded by student tuition. Hundreds of people attended the rally, which was organized largely by Whose NYU, a coalition demanding more financial accountability from the university.
Students and faculty from NYU, The New School and The Cooper Union for the Advancement of Science and Art, came together to protest each university's expansion plans. Other NYU groups with strong presences included Faculty Against The Sexton Plan; Graduate Students Organizing Committee; New York City Students for Justice in Palestine; NYU Divest; the Incarceration to Education Coalition; and the Student Labor Action Coalition. Various activist groups from New York City were also present.
Mark Crispin Miller, head of the Faculty Against Sexton Plan and Steinhardt professor, emphasized the importance of the three major New York City universities coming together in solidarity.
"[These schools] have been badly damaged by the ruinous financial practices of their respective boards," Crispin-Miller said. "The coalition of these three schools are being joined today by several labor unions and community groups city wide."
Protestors demanded that NYU not close or demolish Coles Sports Center —  which is tentatively set for closure on Nov. 15 — until it can provide a replacement space. They also demanded NYU provide full disclosure of its global real estate portfolio and the accounting of this portfolio.
"NYU should not demolish the sports center until they have an adequate replacement for it," Crispin-Miller said. "That strikes us as inarguable. That is a perfectly reasonable demand, and we are focused primarily on that."
However, an email sent to students on July 30 from NYU Executive Vice President for Operations Alison Leary states that the university is committed to keeping Coles open until an alternate location has been set up.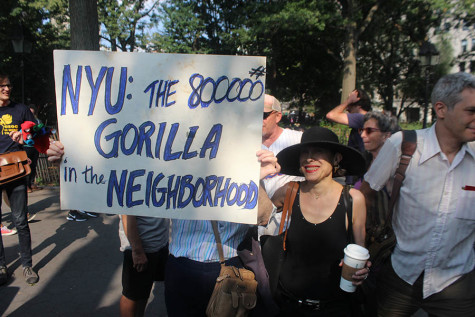 Hark Kanwal
At a June hearing before the New York State Court of Appeals, the expansion plan was given the green light, overcoming the final legal roadblock before the university could move forward with the plan.
At the Presidential Welcome at Madison Square Garden on Monday, some students stood outside the event, handing freshmen 68-page "Disorientation Guides" as they walked in.  The guide, which listed and explained some of the controversies that have recently surrounded NYU, contained sections with titles including, "Why NYU Hates Poor Queers" and "The Graveyard Below NYU Abu Dhabi." It also listed various activist student groups.
University spokesman John Beckman argued NYU is doing everything it can to reduce the burden on students, and said the portrait of NYU portrayed by these groups is neither honest nor fair.
"The simple reality is that NYU is successfully improving financial aid, reducing student debt, recruiting talented students and faculty, expanding research, prudently and successfully managing our budget and finances, and carefully planning for the University's future," Beckman said in an email.
Speakers at the Tuesday rally disagreed. One speaker, who wore a mask and used the name "Mandy" to protect her identity, shared her experience working as a prostitute to pay NYU tuition. A first generation college student, she found that many of her fellow workers were also students or alumni of New York City-area universities.
"My story is a common one and that is why I need to tell it," Mandy said. "We came to these universities to better ourselves, to work for a better life. No girl should have to sell herself to make that better life a reality."
Beckman added that NYU has worked hard to reduce student debt and is working to increase financial aid to students.
"Since 2010, NYU has reduced the average debt upon graduation by over $13,000; the average debt for an NYU graduate is below the national average," Beckman said in an email.
Email Alex and Lexi at [email protected].