Album straight outta Dr. Dre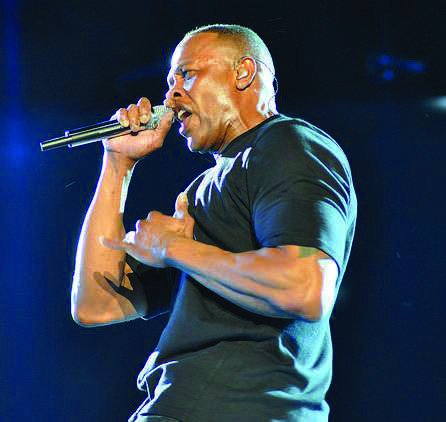 For over a decade, "Detox," Dr. Dre's follow up to his g-funk classics "2001" and "The Chronic," was hailed as the Loch Ness monster of hip-hop: highly anticipated but famously elusive. It was a surprise to all when Dre broke his 16-year-long musical silence with the announcement that he had scrapped "Detox" and, in its place, dropped "Compton: A Soundtrack by Dr. Dre."
Dre delivers exactly what the title implies: a comprehensive soundscape detailing the mythos of Compton in the early '90s, as gangsta rap and g-funk legends arose from the primordial ooze. "Compton" starts with Dre's origin in rap and creates a platform for his contemporaries and successors to fill in the blanks. Hip-hop legends from Ice Cube and Xzibit to recent Compton grad Kendrick Lamar paint a cohesive history of Dre's boundless influence on the titular city.
In doing so, Dre as a producer cooks up a nearly seamless blend of modern and classic hip-hop, incorporating nuances of current trap and pop rap into his usual flavor of West Coast hip hop. In this sense, Compton comes off as timeless, existing not exclusively in 1992 or 2015, but encompassing the entire breadth of Dre's timeline. The tittering hi-hats on the severe "Deep Water" are a staunch juxtaposition to the boom-bap flavored beat on "Animals," but they simultaneously exist in Dre's language.
For all intents and purposes, however, this album may as well have come straight out of 1992 — "Compton" displays a youthful vigor that rivals that of Dre's heyday. From the start, "Compton" comes out guns blazing. The catastrophic, burning energy of "Talk About It," the roaring proclamation of "I don't give a f-ck" and Dre's acerbic verse: "If you wanna beef, make sure that's something you wanna do/There's some missing people that felt that way too" all harken back to the glory days of Dre's career. It's not only Dre who's fired up on this album: every featured artist on here comes out swinging just as hard as the doctor. Over the course of the album, Kendrick Lamar's verses grow meaner and more dynamic, but perhaps the first place trophy out of every feature goes to Snoop Dogg on the harrowing track "One Shot One Kill."
"Compton" truly puts Dre on display as one of hip-hop's true triple threats: a mindful producer, a talented rapper and a fantastic songwriter. Aside from a few production missteps, overdone and dreary hooks and the occasional drawn-out song ("For the Love of Money" and "Issues"), Dre does his hometown, and his legacy, due justice. "Compton" retroactively reads like a memoir of Dre's career: a 50-year-old Dr. Dre in 2015, writing down his story, sketches out a map of the rough avenues of Rosecrans. The memories may be of some antiquity, but the images are just as vivid.
A version of this article appeared in the Saturday, August 29, print edition. Email Kieran Graulich at [email protected]