Gallatin Arts Festival explores range of issues
The Gallatin Arts Festival launched its weeklong gallery curated and created by Gallatin School of Individualized Study students on Monday. The gallery is packed with students' dynamic perspectives, forming a creative atmosphere.
The gallery is divided into two floors — interactive multimedia pieces dominate the ground floor, while the next floor provides a quiet oasis for photography.
A floating mannequin bound by string commands the gallery entrance. To the right of it is a cloth-bound booth with video on loop, followed by Jacqueline Grossbard's series of photographs, "Almost Famous." This piece features the daily life of Michele Marzano, a celebrity impersonator based in Central New Jersey. The biographical photographs serve as a bright pop of color before the gallery leads into a dark and spacious area where two videos play in loop. The first is a similarly biographical YouTube confession by Kai Cameron, and the second is "Shadow May Resolve into Beauty," a black-and-white video of the artist, Luke Smithers, interacting with a dark-cloaked figure.
Toward the middle of the floor is Parissah Lin's "Mourning Weaver." For her performance art piece, she sat on the floor and knitted while reading aloud the names of those who were murdered in the events that inspired the hashtags #BlackLivesMatter, #BringBackOurGirls, #HastaEncontrarlos, and #GazaUnderAttack. Lin said the piece is inspired by her personal sadness.
"I cry a lot," Lin said. "I go to all these protests and see all this injustice and tragedy — and this helps. I use knitting to communicate all this tragedy."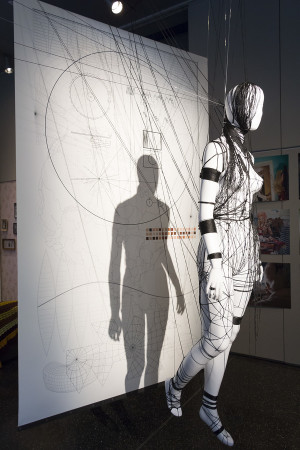 The fourth floor of the Gallatin Building continues the theme of tragedy with Andrew Harvey's "Bambara." Bambara, Guinea was where the Ebola outbreak started last year. Carved out of wood and covered with white spray paint, "Bambara" symbolizes the Westernization of African tradition and Ebola's catastrophic effects in this region.
Also on display on this floor is a piece commenting on the sexual nature of advertisements. Sonya Kozlova's "Calvin, 2014" prints Calvin Klein advertisements on denim, which creates a well-constructed piece that effectively exposes the brand's aggressively sexual marketing.
At times, the range of art at the Gallatin Art Gallery seemed disparate, leaping from one point to another in no space at all. Some of the artwork itself was also very experimental. The gallery overwhelms the senses with its multiple interactive "Please Touch" pieces and a surprising number of screens and videos. The gallery, in its nonstop flickering from subject to subject, captures the image of the increasingly disillusioned and socially conscious young adult.
This enthusiastic coverage and innovation is a fitting launch to the 2015 Gallatin Arts Festival, which is dedicated to globalization, technology and human rights. It is refreshing and intriguing to see the works of today's young artists, and these Gallatin students are fearless in their message.
A version of this article appeared in the Thursday, April 16 print edition. Email Audrey Deng at [email protected]