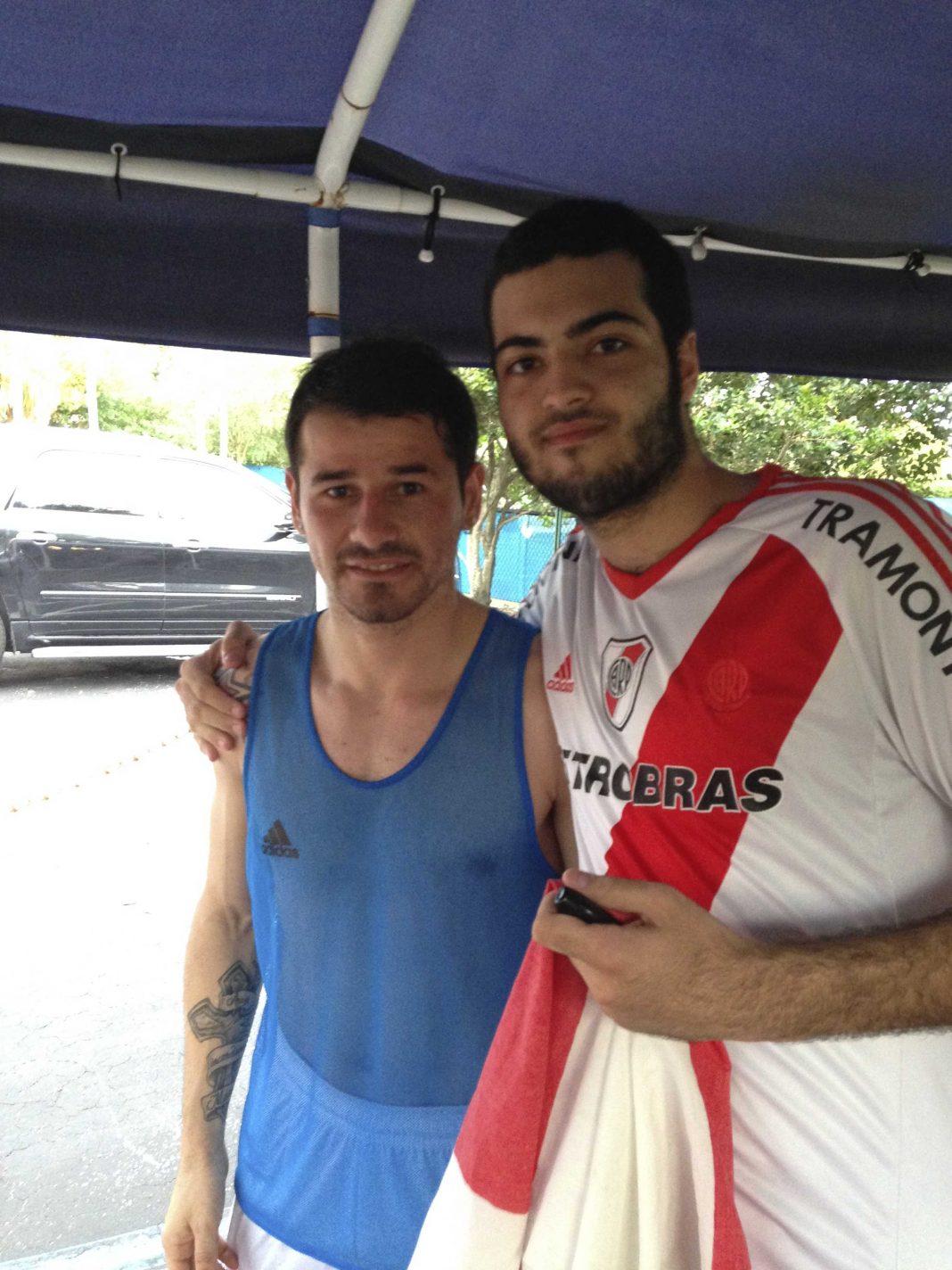 Disclaimer: I wrote this in a moment of post-match stupor.
I cry about soccer quite often. Safe to say it's usually triggered by sadness.
As a third culture kid, raised in Miami, I have clung to River Plate as one of the few remaining threads tying me to the fabric of my Argentine identity. It's a life I fell into half a century before I was born, at the moment that my father was fitted with the right jersey and his twin brother Boca Junior's on their 4th birthday. It's strange to me it even took that long. You know my kid is getting it on as soon as the cord is cut.
Of course, being a die-hard fan of one of Argentine soccer's most successful teams isn't anywhere near as harrowing as being on either side of Merseyside during the last 20 years. But, until last night River Plate have handed me nothing more than false expectations, disappointment and pain.
Returning from an afternoon of crushing some FIFA and eating eight fried meat pierogies — which I don't recommend — I threw open my Mac to stream the match against Mexico's Tigres UANL. I was late. I saw the scoreboard: 81 minutes, down 2-0. If we lost, we were out of La Copa Libertadores — the best soccer tournament you're probably not watching other than the Dutch Edervise — which we've been knocked out of, disgracefully, since the era of La Maquinita spearheaded by Enzo Francescoli. In other words we have sucked internationally since a long time ago.
From 2008, River comfortably fell from grace. No one seemed alarmed until we were down 1-0 playing the second leg of the relegation playoff in 2011, and Mariano Pavone had just missed a penalty in the 70th minute, inexorably condemning us to La B, leaving Boca as the only team to never be relegated. The organization hit rock bottom and crumbled in on itself. In that moment we were all el tano pasman. That night I bloodied my knuckles punching walls somewhere in Rhode Island. Call us a pompous bunch. We were blinded by past success, but the seemingly impossible happened.
Three long years later, we came back and won our domestic league and La Copa Sudamericana, giving us an automatic qualification back to La Libertadores. Club President Rodolfo D'Onofrio and had convinced Teofilo Gutierrez — part cult figure, part natural talent — to stay and Leonel Vagioni from being coaxed by a move to the Italian rossoneri. All our silent heroes and veterans stayed. The prospect of taking the cup bolstered everyone's confidence.
To top my off my nostalgic wet dream, Marcelo Gallardo returned to the bench, this time as a manager. Gallardo scored 63 goals in his three stints with River, and was symbollically dishonorably discharged after he was benched for the last 90 minutes of his Argentine career in 2010. Like Simeone to Atleti, Gallardo, a true club patriot, promised a little flare and emotion in our playing style. I believed in El Muñeco, and I still do.
Back to the game. Unlike Fergie's United teams that pulled through to win it in "squeaky bum time," as Gallinas we are the kings of giving up and letting ourselves down just before the final whistle. Never have I watched them come back when it matters. We choke harder than Lebron did in 2011, who couldn't post up JJ Barrea. Like countless times before, failure brewed in my stomach, followed by a void and infinite sighs of grief. A chorus of "RiBer" taunts raged in the background of my mind.
I had accepted my fate — our fate. It was as final as a being informed of the death of a loved one. That might seem a little harsh, but you'll have to trust me on that one. It sucks. I prepared myself for the same deep and imminent sorrow that 9-year-old me felt pouring through his eyes. Sitting in in my street vendor-quality Cavenaghi jersey, I was inconsolable after getting ousted by Boca at home in penalties at the 2004 edition of the same tournament,
The same happened the next year at the hands of Sao Paulo. Gallardo hit the crossbar to almost tie the game that night.
Then in minute 86, Gutierrez scores a fluke of a goal in full Teofilo style — putting in what the goalie drops — after a defensive blunder by Tigre's centerback. At 20 years old I've learned not to get my hopes up, especially when a beam of light peaks through.
Minute 89: the impossible. The unprecedented. Rodrigo Mora scores. Insanity ensues, at least in my mind. I'll admit to some screaming as well. In the same second the center from outside the box found Mora, a flash of pain accompanied a vision and expectation of an awry shot. I cannot overestimate the number of times I've seen Argentine forwards sky important shots. Clutch finishes seem to have a 1 percent success rate in Argentina. Apparently the glory isn't worth it if they don't rocket launch the ball into the back of the net like Cristiano.
It was a victory. I've always derided fans of weak teams for even accepting ties — I'm looking at you USMNT. I cried. Gracias por la emoción.
Email Francisco Navas at [email protected]