"Mad Men," AMC's hit drama that follows Don Draper (Jon Hamm) and the world of advertising in the 1960s, will air its final seven episodes starting with the mid-season premiere on April 5. To commemorate the award-winning series, the Museum of the Moving Image in Astoria, Queens, is currently running "Matthew Weiner's 'Mad Men'" exhibition gallery. With extensive help from Lionsgate and AMC, the museum and creator Matthew Weiner collaborated in order to create a display that will attract the show's fans.
The exhibit starts with a showcase of Weiner's various artistic influences. In this section there are books on loan from Weiner's personal library, as well as old screenplays and classic films such as "Mirage," "The Apartment" and "The Best of Everything," all of which Weiner drew inspiration from for "Mad Men."
Further into the exhibit, scenes from "Mad Men" play with accompanying display boxes. The scene from "Smoke Gets In Your Eyes," an episode from the show's first season, plays, showing Don talking to a waiter about the cigarette company Lucky Strike and an article that discusses the dangers of smoking. Next to the small screen, the original article is on display along with some Lucky Strike cigarettes. The props reveal how far Weiner and the crew went to create a true '60s feel, exemplifying why "Mad Men" is often acclaimed for its authenticity. Music from the '60s plays in the background, adding to the gallery's vintage feel.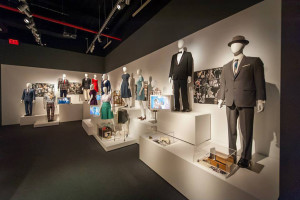 The exhibit also displays recreations of the set and backstage. One example is the writers' room as it would have looked during brainstorming session, capturing precise details such as what was written on the room's white board. Recreations are also included of the Drapers' kitchen and Don's office, viewers feel as though they are being transported to the show's set. Each main character also gets a small section with some of their personal belongings and mannequins with outfits they have worn on the show.
In a small viewing room, visitors can watch clips from the show interspersed with Weiner's commentary. There is also a station with headphones for listening to song's from the show's soundtrack. Attendees can pick a song and listen to Weiner discuss the decision for choosing that song for a scene.
In conjunction with the exhibit, there is also a film series, "'Mad Men's' Movie Influences." Weiner chose all films in the series, and he offers commentary about how each one influenced his fashion and music choices. To Weiner, the films, such as "North by Northwest" and " Blue Velvet," capture the essence of the '60s exceedingly well. The films run until April 26.
"Matthew Weiner's 'Mad Men'" runs until June 14 at the Museum of the Moving Image.
A version of this article appeared in the Thursday, March 26 print edition. Email MaryAnn Odete at [email protected]