Softball captain talks motivation, perfectionism
Softball captain and Gallatin junior Kahala Bonsignore does not need a Buzzfeed quiz to tell her she most resembles Monica Geller from Friends. Bonsignore admitted to relating to Monica's obsession with perfection — the quality that nearly convinced her to end her softball career. But with the help of her coaches, Bonsignore rediscovered her passion for softball and learned to let go on the field. 
"That's something I'm actually working on, and it's something that I believe in — that you should let go of those little things," Bonsignore said. "But they definitely get to me in my daily life."
Bonsignore grew up in Ventura, California, where watching her brother's Little League games introduced her to the sport. At five years old, she stepped onto the field herself. Bonsignore advanced to softball and played every season of her local Tri-Valley League until her early teens. In addition, she played with travel leagues from age 11 to 16 and with school teams from eighth grade to senior year of high school. In her freshman year of high school, she was named local Rookie of the Year.
However, Bonsignore questioned whether she should keep playing softball because of constant overthinking during games. Encouragement from others kept a mitt in her hand. Monte Monfore, the father of her brother's teammate and later her Tri-Valley coach, always brought a bucket of baseballs to the boys' games for her to practice pitching — as well as Bubblicious gum and a sarcastic humor similar to Bonsignore's.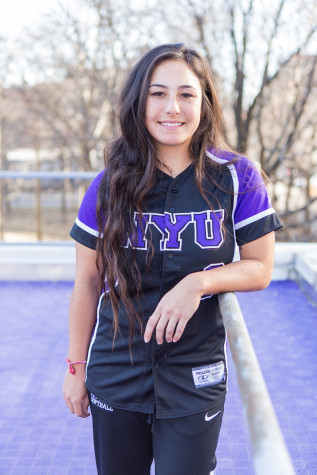 "[He] was one of the kindest and gentlest of 'giants' a person could ever meet," Bonsignore said. "To this day, I remember and value all the time and energy he sacrificed into my own love for the sport."
Bonsignore said her biggest influence as a player was her high school coach Peter Ackerman. After she quit travel softball as a teen, Bonsignore no longer planned to play in college, and saw no point to continue playing in high school. Ackerman's lessons on player mentality taught her how much team chemistry affects
the game.
Bonsignore was content with the way her softball career had ended in high school. She avoided club softball in her first two years at NYU, but her father insisted that she pick up the sport again, sending her an article about the team's promotion to varsity for her junior year. Bonsignore hesitated in emailing the varsity staff and initially went after the club team, thinking her gap in playing hindered her from being able to play varsity. She gained enough confidence to press send and follow up. Months into her first season at NYU, the University Athletic Association awarded Bonsignore a spot on the All-Tournament Team on March 23.
"For me, humor is my icebreaker," Bonsignore said. "I try to keep a light attitude on the field. The game is really about fun, and of course we want to win. But you can't win if you're too tense."
A version of this article appeared in the Thursday, March 26 print edition. Email Kathryn Jones at [email protected]