Pitcher balances baseball, business
For NYU pitcher and captain Chase Denison, athletics are not the only thing that are important in his life.
In 2012, the Stern student founded a startup company called Vybe, an online sunglasses store that allows shoppers to customize the colors of their sunglasses.
"I was inspired by the current eyewear on the market, and the lack of personalization and customizability," Denison said.
The idea for Vybe began in Denison's kitchen in Apex, North Carolina, when he began sketching different designs. It took a week and about 50 sketches to settle on one. As he sketched different designs, Denison began thinking about the company's name.
"Initially, I wanted to have a name set before I began drawing the initial sketches, because I thought it would offer some validation to my nonexistent company," Denison said. "I stressed about it, but then my dad told me it would just come to me, so I listened. A few days later, the word vibe just came to me out of nowhere."
Despite coming up with the idea three years ago, Denison launched the business only seven months ago.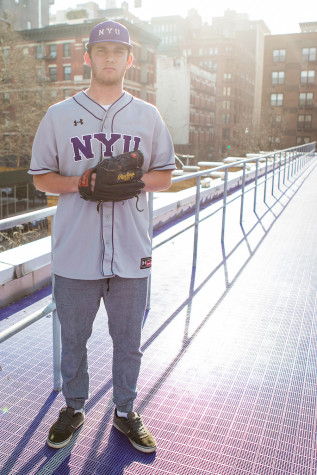 In addition to running Vybe, Denison works as the head of business development at another startup and as a starting pitcher for the baseball team.
The other startup, called Urlinq, is an educational technology company created by students at NYU and Columbia University as a platform for students and professors to connect with one another.
But since the spring semester began, most of his time has been shifted to the baseball diamond and the weight room. Denison has picked up one of the Violets five wins on their season, thus becoming part of history as one of the first players to get a win since NYU became a varsity Division III program. He leads the way as one of five captains, four of which are freshman, on what is one of the youngest teams in the country.
"The spring has been tough because we're practicing, playing or lifting almost every day, traveling a lot and it drains you mentally," Denison said.
Denison's best start came in the first game of a doubleheader on March 18 at Cairn University in Langhorne, Pennsylvania, where he pitched six innings and allowed just four runs, earning his team a victory. He also struck out two and walked none. The final score of that game
was 12-7.
As for his and his teammates' looks on the field, you won't find them wearing Vybe glasses.
"I don't wear them on the field because they aren't designed for athletic use," Denison said. "But off the field I wear them and a lot of guys on the team have a pair."
Denison will look to help the Violets get a win in their home opener on Saturday against Brandeis University.
A version of this article appeared in the Thursday, March 26 print edition. Email Jonathan Schifman at [email protected]