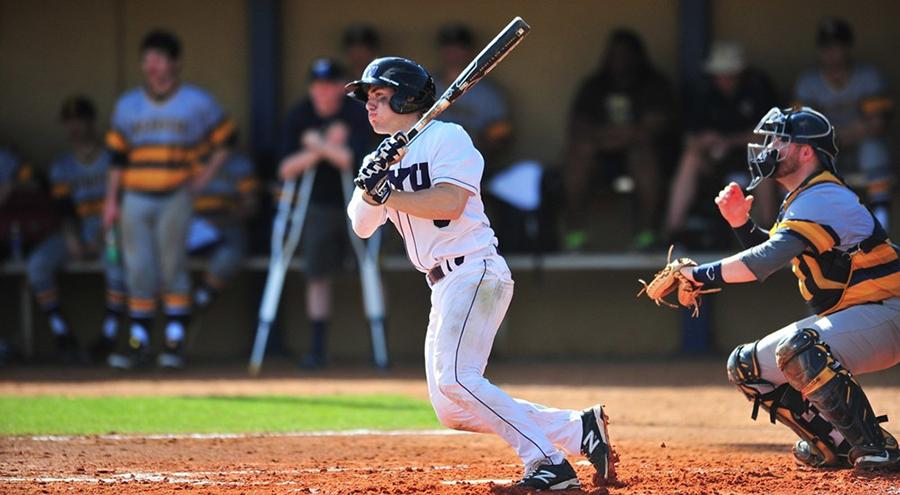 The NYU baseball team got a program-defining win on March 9. The team picked up its first ever UAA win in a close game against Brandeis University on Monday morning, finishing with a score of 2-1. Freshman pitcher Cameron Serapilio-Frank's outstanding performance aided NYU's lead as he struck out five Brandeis players while giving the opposing team just five hits. Sophomore outfielder Adrian Spitz spoke plainly about such a large program win.
"It was a very tight game," Spitz said. "Cam pitched great and the defense did their job."
On Tuesday morning, the Violets won their second consecutive game by beating the University of Rochester in Sanford, Florida. This second win was as tightly contested as the first, with both teams trading the lead all game long. As opposed to the first game, which was a pitchers' duel, the second game involved a lot more offense as the Violets took it by a score of 14-13. Freshman shortstop Jonathan Iaione reflected on the Violets' sentiment of never giving up.
"We tried to break away but Rochester just kept coming back," Iaione said. "We had to simply believe in our abilities and just keep hitting. And that's exactly what we did."
Spitz also talked about the different offensive strategies between the first and second game.
"We hit the ball hard, seized opportunities and rallied back when behind," Spitz said. "That is how we ended up on top."
The final outcome remained uncertain throughout, but NYU pulled through. Freshman middle infielder Jeremy Wayne praised the Violets' resolve.
"We fought hard and came through when we needed to," Wayne said. "There was a lot of competitiveness in the game and chirping back and forth between us and Rochester, which I think fired us up and gave us an edge."
Though the Violets conceded 13 runs, they buckled down when they needed to. A pair of freshman pitchers, Matthew Millus and Matthew Wells, held Rochester to just a single run in the last two innings. Millus picked up the save and the Violets are now 3-3 in the early stages of their season, an impressive feat for a team just getting on its feet as a varsity program. They will be back in action against Washington University in St. Louis Tuesday afternoon.
The softball team was also in action, playing in its first UAA Championship games ever against Emory University and Brandeis on Tuesday. Unfortunately, they lost 14-2 and 9-3. The Emory Eagles and the Brandeis Judges maintained leads throughout both games, but the Violets remained tenacious and competitive in spite of some opening game jitters. They scored two runs in the fourth inning of the first game, and runs in the fourth, fifth and seventh innings of the second, making their best attempt to close the score gaps.
Junior infielder and outfielder Lauren Parnaby is optimistic that the team will shine through and show their true capabilities soon as the group adapts and builds its confidence.
"Today's two games were an interesting test," Parnaby said. "The other teams definitely underestimate us and the scores of today's games aren't reflective of our team's capabilities by any stretch."
It is still early in the tournament and the Violets will definitely have the opportunity to improve despite their 0-6 start to the season. Their next games are on Tuesday, when they will play the University of Rochester and Washington University in St. Louis in a double header.
A version of this article appeared in the Wednesday, March 11 print edition. Email Stanley Wu at [email protected]