Angelo Marani Fall/Winter 2015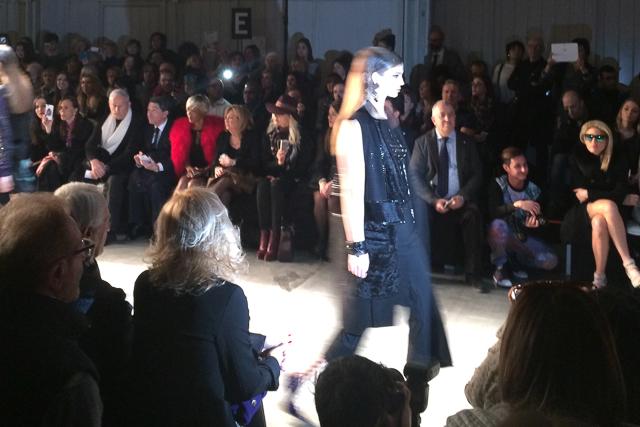 Waiting anxiously for the next collection from Italian designer Angelo Marani could not have been a more pleasant experience. From the sensual red mood lighting to the comfortable piano music, the atmosphere was clearly one for the audience's pleasure. And from the first opening coat in classic black adorned with sheepskin fur to the final dress of chiffon that bounced from the weight of sequins and pearls, Marani gave every model the iconic appeal of his sex symbol muses.
Drawing from delectable divas, Marani presented a journey through time beginning with the unforgettable Marlene Dietrich, traveling to everyone's favorite blonde bombshell Marilyn Monroe to the undisputably powerful Kim Kardashian. With each of these women in mind, the collection embodied a keen mixture of 1920s Art Deco glamour, 1950s femininity and contemporary curved cuts of the 2010s.
With a modern remix of the 1950 classic "Blue Velvet" playing in the background, shades of black, black and more black glittered down the runway in the form of lace paneled dresses, leather accented brassieres, and beaded pearls. Models also wore fishnet stockings with almost every piece.
An occasional pop of red made its way on the likes of a shag detailed sweater — cleverly knit with a "XXX" logo in case anyone missed the sexual theme — and a stunning, full sheepskin fur coat in the iconic shade of red that adorned every diva's sumptuous lips. With the return of red came blouses, paneled pants and dresses clad in cheetah print — the animal spots that seem to scream sensuality for any occasion.
While the show focused on a theme of sexuality, Marani's newest collection nevertheless remained elegant, ladylike and of course, Italian.
Email David Bologna at [email protected]