Dominique Ansel goes nuts for Nutella
Whether paired with fruit or smeared between two pieces of bread, the nutty, chocolate flavor of Nutella always leaves you wanting more. The popular spread brought together Ferrero, the makers of Nutella, and Dominique Ansel, the creator of the Cronut on Feb. 17 to celebrate International Pancake Day.
The event began at 11 a.m. at Grand Central Terminal's Vanderbilt Hall, where commuters and Nutella fans were able to come by and join the celebration. In honor of the holiday, Dominique Ansel created a limited edition Nutella Pancake Cone: a mini cone shaped pancake topped with a dollop of Nutella and sprinkled with salt.
Only 2,000 of the bite-sized treats were produced, and each person could only get their hands on two of them. Though there was a limited supply, Dominique Ansel's team was whipping up silver dollar pancakes as well, which could be brought to the custom pancake bar and topped with a selection of fresh fruit and of course, extra Nutella.
 The idea for this year's celebration stemmed from the success of Nutella's 50th anniversary event last May. Ferrero U.S.A and Dominique Ansel collaborated on an event in Madison Square Park, where Cronut holes infused with Nutella were served.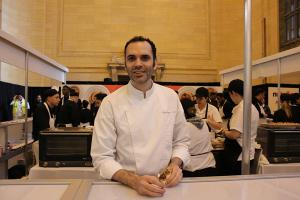 Eric Berger, Nutella's senior brand manager, said the brand appreciates its fans.
"We were humbled by the way our fans showed their passion and love for the Nutella brand," Berger said. "This year we looked for another way to celebrate with them, and since Nutella makes pancakes extra special, we found International Pancake Tuesday to be the perfect opportunity to do so."
In addition to the complimentary Nutella Pancake Cones and custom pancake bar, a photo station with props allowed fans to pose for pictures and spread their love for Nutella on social media.
Ansel himself is an avid fan of the iconic spread.
"There's something about Nutella that goes beyond just the flavors of hazelnut and cocoa, but has an emotion that brings me right back to my childhood" Ansel said. "It is always a fun inspiration for new creations. I am thrilled to partner with Nutella again and put a spin on the traditional pancake for today's International Tuesday celebration."
The event, which ended at 4 p.m., proved to be a great success. Whether it was a commuter who stopped by to grab a treat on the go, or a devoted fan that traveled to taste the limited edition creation, people were left with satisfied stomachs. For the Nutella lovers who were not able to attend the event, Ansel is not letting them miss out. On Nutella's Facebook page, the chef's pancake recipe has been posted, so the delicious treat can be recreated at home.
A version of this article appeared in the Tuesday, Feb. 24th print edition. Email Caroline at [email protected]