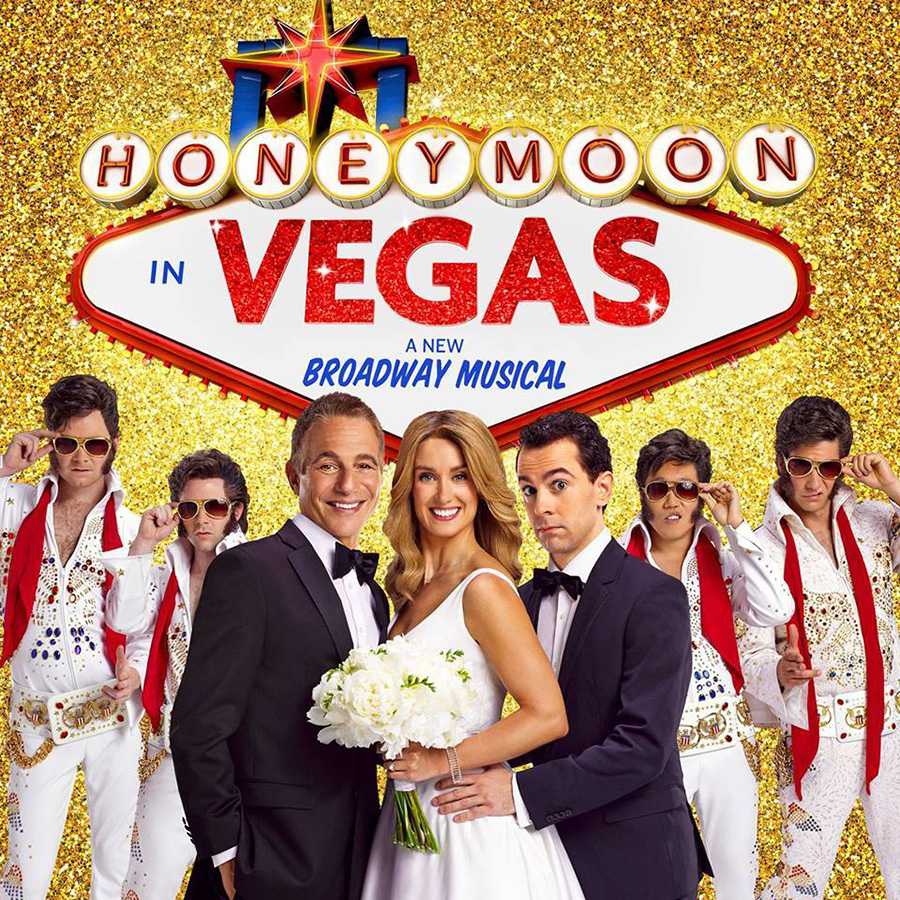 With highlights including attractive showgirls with larger-than-life playing cards and a crew of skydiving Elvis impersonators, the play "Honeymoon in Vegas" is a mix of slightly eccentric musical numbers and a very talented ensemble.
Andrew Bergman and Jason Robert Brown's musical starts with the story of Jack Singer, a man whose mother instructed him, on her deathbed, never to get married. When the time comes for him to marry his beloved Betsy, he falls prey to a conniving gambler, Tommy Korman. The gambler convinces Singer to give Betsy up for a weekend at the Korman beach house in Hawaii, in exchange for erasing Singer's outrageous poker debt. After realizing what a horrible mistake he's made, Singer vows to get Betsy back and finally get a ring on
her finger. 
This new Broadway production, based on the 1992 movie of the same name, opened on Jan. 15 at the Nederlander Theatre. Tony Award winner Rob McClure plays mamma's boy Jack Singer. Broadway veteran Brynn O'Malley plays the immensely frustrated Betsy and beloved TV and film actor Tony Danza laces up his tap shoes to play gambler Tommy Korman.
It is obvious that all three leads are immensely talented performers. However, the musical's unpolished material does not do their talent justice. The musical is clearly centered on Danza, with extended solos that don't seamlessly fit into the show featuring Danza's ability to tap, sing and make pained facial expressions over his character's loss of his sun-obsessed wife, Donna, who earlier died of cancer. The most entertaining numbers of the musical are those that feature the full ensemble including "When You Say Vegas" and "Higher Love."
A strong ensemble helps strengthen this show, along with stellar direction by Gary Griffin and exciting choreography by Denis Jones. The characters move seamlessly through the story as they transition from New York City to Vegas to Hawaii and back to Vegas. The scenes that take place in the Vegas hotel accurately reflect a true Vegas vacation, complete with change buckets, '80s-style wardrobe and bikini-clad women. The depiction becomes less realistic as the setting transforms into the Hawaiian island that is home to the garden of disappointed mothers. As Jack confronts his mother's curse once and for all, dry ice and strobe lights overwhelm
the audience.
The musical is especially enjoyable for those who have seen the movie, as it is very close to the original plot. Those who are new to the story, however, might find themselves sitting through most of the play until the highlights occur in the last 20 minutes. 
"Honeymoon in Vegas" is currently playing at the Nederlander Theatre at 208
W. 41st St.
A version of this article appeared in the Tuesday, Feb. 3 print edition. Email Alyssa Dvorak at [email protected].