Exhibit offers urban solutions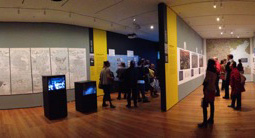 The Museum of Modern Art's latest project is not just modern — it is futuristic. "Uneven Growth: Tactical Urbanisms for Expanding Megacities," which opened Nov. 22, is a display of creativity concentrating on overpopulation in six metropolises: Hong Kong, Istanbul, Lagos, Mumbai, New York City and Rio de Janeiro. Using multimedia displays of charts, videos and infographics, this exhibition shows the diversity of modern art — in this case, through the artistry of architectural design and development.
College students, architects and urban planners from around the world proposed possible future scenarios for cities, designing ground-up solutions that start with small, temporary fixes, such as different roofs or clothing exchanges.
Each scenario is tailored to the respective city. In the portion of the exhibit focused on Mumbai, for example, the focus is on creating a space for children. The designers have thought up an open gymnasium, which would provide a space for children to play in this densely populated city.
New York's future scenarios do not focus on creating new environments, but rather on what already exists. The artist says the city has enough housing that no person should be homeless, yet landlords manipulate their spaces to create the most revenue for themselves, leaving hundreds of apartments empty. The plan zeroes in on property owners who make unique spaces, like roofs and gardens, available for New Yorkers regardless of social class.
Hong Kong's design veers in an opposite direction. The project proposes creating eight man-made islands, each geared toward a different purpose: waste, endangered species, inhabitation and so on.
Istanbul's plan focuses on the middle class, whose luxurious aspirations could lead to further demise, according to the artists. Therefore, the plan proposes a future in which the middle class composts, shares utilities and participates in local gardens.
All of these hypothetical situations are rooted by a common denominator — the human willingness to change. MoMA presents multimedia plans for these cities, including drawings, videos and renderings of the projects.
With thoroughly thought-out models, these designs endeavor to inspire conversation and introduce new ideas to long-debated issues. "Uneven Growth" presents plans that are interesting and feasible, leading viewers to consider that the possibility of change is not so far-fetched.
"Uneven Growth: Tactical Urbanisms for Expanding Megacities" is on view through May 10 at the Museum of Modern Art, 11 W. 53 St.
A version of this article appeared in the Tuesday, Dec. 2 print edition. Email Audrey Deng at [email protected]