Remembering Oscar, one month later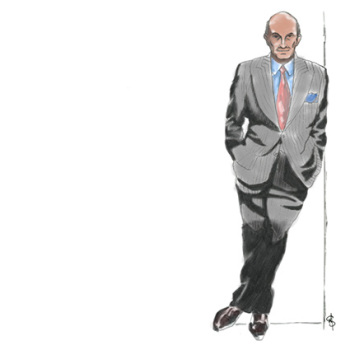 The first word that came to Steinhardt freshman Cssidy Miller's mind upon hearing the name Oscar de la Renta was "love." It is love that truly encompasses what de la Renta stood for. His feminine designs have been worn by countless brides, editors and celebrities who left his runway shows a with genuine friendship with the man whose legacy is sure to never be forgotten.
His designs were undeniably beautiful, but what de la Renta really epitomized was hard work, passion and respect. Before debuting his own brand, he worked under Cristobal Balenciaga, Lanvin, Elizabeth Arden, Jane Derby and Balmain. He had a natural talent and passion for designing and was eager to learn the necessary skills to become an expert couturier.
Over the years, de la Renta dressed First Ladies Jacqueline Kennedy, Nancy Reagan, Hillary Clinton, Laura Bush and Michelle Obama. His dresses — worn at inaugurations, debates and more — made de la Renta a household name. Due to its business' extravagance, however, his business was not always successful.
Many industry professionals questioned his decision to resist selling his company to luxury conglomerates and instead keep his business within his family. But in the last eight years alone, while he was suffering from cancer and its complications, de la Renta's company grew by 50 percent with $150 million in sales, and his dresses became red carpet staples worn by the likes of Sarah Jessica Parker, Cameron Diaz and Amy Adams.
Despite his collections being priced in the thousands, students like Steinhardt sophomore Marcia Hu instantly recognize his name and importance.
"Something I really love about Oscar de la Renta's designs is how their simplicity makes such bold statements," Hu said. "Part of the fun of fashion week is seeing all the extravagant pieces made of metallic and satin, but de la Renta always captured the same attention by using simple colors and patterns. He always designed with a hint of irresistible elegance."
De la Renta's designs serve as inspiration for how young women aspire to dress. He taught young women how to love themselves and how to be elegant and to exude confidence, famously saying "Walk like you have three men walking behind you." He impacted all generations, even if only a select group people actually had the pleasure of wearing his designs.
As for the future, it is still uncertain how the Oscar de la Renta brand will continue on without the man himself. The company recently appointed a new creative director, British designer Peter Copping, who was previously at Nina Ricci. While de la Renta often had close bonds with many of his clients as well as editors and models, Copping may have a hard time filling such big shoes while upholding the allure of the brand without the man behind it. But he has been widely
regarded as a good fit for the company, and de la Renta himself appointed him a week before his death on Oct. 20.
The passing of de la Renta will continue to weigh heavily on the fashion industry. Though it has been exactly one month since his passing, industry colleagues, friends and fashion fans alike continue to reminisce about his life. Some, such as Stern freshman Louise Lai are unsure if anyone will ever be able to epitomize love the way he did.
"Young fashionistas aspired to dress the way he dressed others, and now there is a void that may never be able to be filled in quite the same way," Lai said. "To me, Oscar de la Renta was always a pioneer in romanticism. That's what I know him for. No one will ever make red carpet dresses the same way. His name means a lot, and someone else will fill in for him of course, but no one will ever be quite like him."
A version of this article appeared in the print version of Fringe Fall 2014. Email Sophie Lewis at [email protected]