Crime Log: Oct. 30 to Nov. 5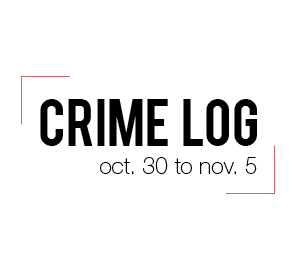 The NYU Department of Public Safety has received reports of eight incidents of larceny and one incident of controlled substance in the past week.
Controlled Substance
At 1:56 a.m. on Nov. 1, public safety confiscated marijuana and drug paraphernalia from a dormitory room at University residence hall. This incident is still under investigation.
Larceny
At 7:35 a.m. on Oct. 30, a student said that, between 5:15 p.m. and 5:20 p.m., her wallet went missing from her knapsack at the Dibner Library. The New York Police Department filed a report.
At Goddard residence hall, a student reported at 12:25 a.m. on Oct. 30. that an identity thief made retail purchases using his information. NYPD did not file a report.
At 6:35 p.m. on Oct. 31, a report was filed with Public Safety of a bag stolen while it was in a box near the student's feet at Starbucks at Faye's that occurred between 6:10 p.m. and 6:30 p.m.
A student reported that, between 12:30 p.m. and 4:45 p.m. on Oct. 31., his bicycle was stolen on the Mercer Street side of Meyer Hall. NYPD filed a report.
At 2:20 p.m. on Nov. 3, Public Safety received a report of a pickpocketing incident of a wallet from a student's bag as she was walking down the stairs at 5 Metrotech Center. The NYPD was notified and arrested the thief.
At 7:35 p.m. on Nov. 3, a student reported his bike missing, despite securing it with a lock before leaving it at 1:30 p.m. The student did not notify the police. 
At 5:02 p.m. on Nov. 4, a student reported that he had secured his bicycle to a bike rack near Shimkin Hall at 12:30 p.m. and returned to find his bicycle rim missing at 3:30 p.m. The student did not notify the police.
At 12:35 p.m. on Nov. 5, a student attempting to shoplift at the NYU Bookstore was stopped by security guards.
All the incidents except those that occurred at 5 Metrotech Center and the Dibner Library are under investigation.
A version of this article appeared in the Monday, Nov. 10 print edition. Email Christine Park at [email protected]